Victory For Redskins? High Court Rules That Offensive Trademarks Are Free Speech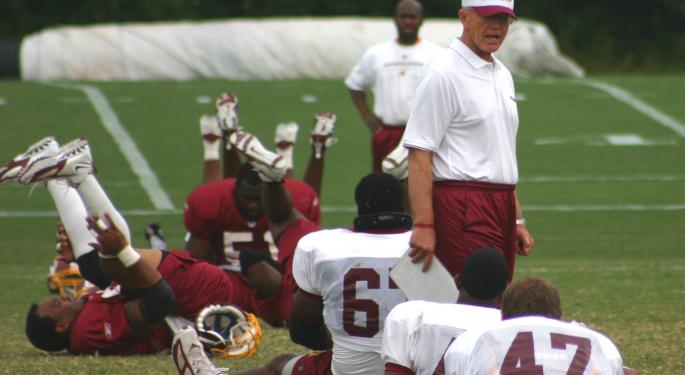 A U.S. Supreme Court ruling that allows trademarks to be as offensive as they want to be is good news for the Washington Redskins, which some people consider the epitome of repulsive team names.
The high court Monday ruled unanimously that a law prohibiting the government from registering trademarks that "disparage" people violates the First Amendment.
The court struck down a portion of the 1946 Lanham Trademark Act, which the U.S. Patent and Trademark Office cited in 2011 to deny a trademark application from an Asian-American rock group called "the Slants."
The law prohibits registering a trademark that may "disparage" any "persons, living or dead, institutions, beliefs, or national symbols, or bring them into contempt, or disrepute."
The trademark office revoked the "Washington Redskins" trademark in 2014, using the same law. The NFL team is appealing the decision in federal court and filed a brief in support of the Slants.
History Of A Name
Here's a brief history of the controversial name:
1933: George P. Marshall changes the name of his football team from the Boston Braves to the Boston Redskins to avoid having the same nickname as the baseball team.
1937: Marshall moves the team to Washington.
1961: Marshall becomes the last NFL owner to allow black players on his team.
1967: The Washington Redskins trademark their name.
1972: Native American leaders meet with Redskins President Edward Bennett Williams and urge him to change the team's name. The team gets rid of the cheerleaders' black braided wigs and drops some language from the fight song, such as "Scalp um."
1977: A halftime show features a marching band made up of Native Americans from 80 tribes.
1992: Seven Native Americans file a petition with the Patent and Trademark Office asking for the revocation of the team's six federal trademark registrations because the name disparages Indians.
2006: Several other Native Americans file a petition to scrap the trademarks, but the case is put on hold until the courts get around to the earlier case.
2009: The Supreme Court declines to accept the original group's petition to review a rejection by a lower appellate court.
2013: Team owner Daniel Snyder vows keep the name. "We'll never change the name," he said.
2013: During halftime of "Sunday Night Football," NBC sportscaster Bob Costas declares the Redskins name "an insult, a slur, no matter how benign the present-day intent."
2014: The Trademark and Trial Appeal Board orders the cancellation of the Washington Redskins' six federal trademark registrations.
2014: A number of news agencies, including the Washington Post, announce they will stop using "Redskins."
_____
Image Credit: By flickr user dbking - http://www.flickr.com/photo_zoom.gne?id=32461312&size=o&context=set-721858, CC BY 2.0, via Wikimedia Commons
View Comments and Join the Discussion!
Posted-In: Bob Costa Boston Braves Boston Redskins Daniel SnyderNews Legal Sports General Best of Benzinga