The Oath's On You: Smirnoff Vodka Trolls Trump With Russian Ties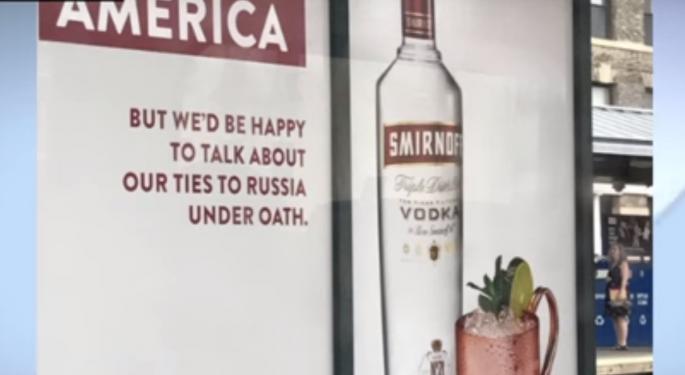 Ah, a blast of Smirnoff Vodka. It's on the house. The joke, that is. It's on the White House.
In a rare shot of political satire by Madison Avenue, the makers of Smirnoff are mocking President Donald Trump's alleged ties to Russian interests who purportedly hacked the American political process to get him elected.
The Putin-friendly president gets tweaked in an outdoor ad campaign featuring a bottle of spirits and the caption:
"Made in America. But we'd be happy to talk about our ties to Russia under oath."
The ad comes out the week Attorney General Jeff Sessions, who denied during confirmation hearings that he met with Russia's ambassador to the United States, is to testify before the U.S. Senate Intelligence Committee.
"In short, the ad campaign is impressively topical, playing not only on the ongoing Russian scandals but specifically to this month's back and forth on who should or would speak on the matter before Congress," Adweek said Monday. "Something that timely and potentially divisive can't be an easy concept to push through the client approval process."
Politically Themed Ads Can Be Tricky
The ad was cooked up by creative agency 72andSunny's New York office and went viral on Reddit.
Considering how polarizing the Trump presidency is, the agency took a risk that doesn't always work out well for advertisers.
Most recently, featured PepsiCo, Inc. (NYSE: PEP) a commercial in April starring reality television figure Kendall Jenner and set her against a protest that evoked imagery from the Black Lives Matter movement, which sprang up after a series of police shootings of unarmed black males.
Pepsi quickly pulled the ad amid a widespread outcry and apologized.
This Bud's For Immigration
In these highly polarized times, even a heart-warming commercial can be a risk. Anheuser Busch Inbev NV (ADR) (NYSE: BUD) ran a commercial during the last Super Bowl about its founder coming to America.
"You don't look like you're from around here," a young Adolphus Busch is told as he arrives in America from Germany.
Conservatives complained that the beer ad was pro-immigration.
Incidentally, Smirnoff heir Vladimir Smirnov fled for his life from Russia during the Communist revolution of 1917, when the distiller and his family were considered by the Bolsheviks to be part of the bourgeoisie.
Smirnoff is owned by the British Diageo spirits concern and is distilled in Plainfield, Illinois.
Related Link:
People Are Angry Over Pepsi Ad Featuring Kendall Jenner Calming Protest
_______
Image Credit: Screengrab from Smirnoff ad, via YouTube.
View Comments and Join the Discussion!
Posted-In: News Futures Politics Events Global Markets Media General Best of Benzinga