PotCoin: The Marijuana Company That Sent Dennis Rodman Back To North Korea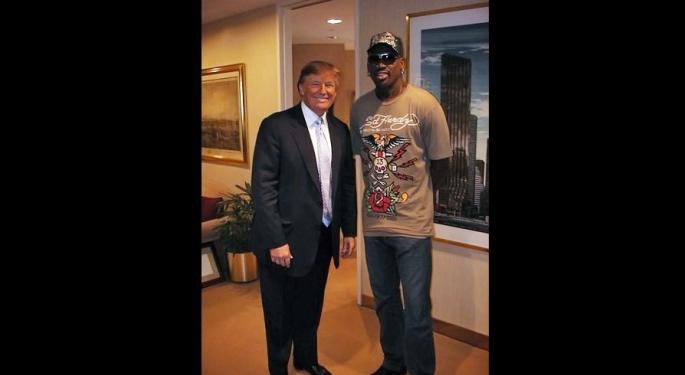 Former NBA superstar and Hall of Famer Dennis Rodman is once again flying to North Korea to meet with Supreme Leader Kim Jong Un, thanks to the support of its sponsor, PotCoin.
PotCoin is a community-based (Bitcoin-inspired) cryptocurrency that was created exclusively for the legal cannabis industry, partly responding to the absence of traditional financial services like credit card payments.
Related Link: Banking Problems In The Cannabis Industry Are 'Somewhat Overblown In The Press'
Although Rodman has visited the enigmatic Asian country several times in the past and established a close relationship with Kim Jong Un, the purpose of this particular trip is still a mystery.
"Headed back to North Korea. Thank you http://www.PotCoin.com for sponsoring my mission. I'll discuss when I return," Rodman said in a tweet.
Almost oxymoronically, Rodman claims to be a friend of both North Korean Supreme Leader Kim Jong Un and American President Donald Trump. Could he be, as his agent Darren Prince claims, "trying to use his relationship to open the line of communication and send a message of peace and understanding?"
According to Rodman, the purpose of this trip is "to open a door" between the United States and North Korea. However, he does not plan to discuss detained Americans at the time, he added.
Benzinga has reached out to the PR agency in charge of this trip's news, and to PotCoin itself, and is still awaiting a response. Keep tuned in for further details.
PotCoin gained more than 82 percent on Tuesday trading, closing at more than $0.18 per coin, taking its total market cap close to $40 million.
More From Benzinga:
The 420 Investor On MedReleaf's Rough IPO: The Stock Is Still A 'Screaming Buy'
'Get Lit': Blend's Data Reveals How Millennials Talk About Weed
_____
Image Credit: By OPEN Sports - http://www.flickr.com/photos/opensports/3321699182/, CC BY 2.0, via Wikimedia Commons
View Comments and Join the Discussion!
Posted-In: Cannabis Cryptocurrency News Emerging Markets Futures Politics Forex Travel Best of Benzinga