'Wonder Woman' Slams Coffin Shut On Tom Cruise's 'Mummy' After Potent Second Weekend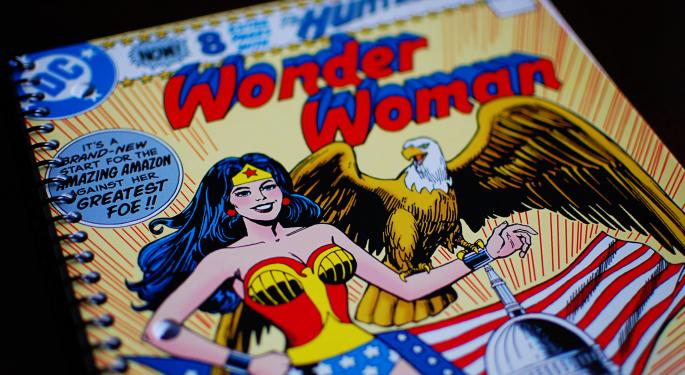 "Wonder Woman" lassoed the box office for a second straight weekend, burying Tom Cruise's "The Mummy" and belting another studio's bid to build a billion-dollar world of interlocking franchises.
The Gal Gadot-starring "Wonder Woman" - Time Warner Inc's (NYSE: TWX) first critical hit in its own effort to build a cinematic universe based on its DC Comics properties - made $57.2 million domestically, a remarkable 45 percent drop from the debut weekend of a summer blockbuster. It's now passed a total gross of more than $430 million.
The movie had a second weekend that exceeded DC's critically lambasted previous two superhero flicks: "Batman v. Superman: Dawn of Justice" and "Suicide Squad," according to Variety.
'Mummy' Makes Moribund Debut
In second place domestically was "The Mummy," a Tom Cruise vehicle intended to launch NBCUniversal Studios, Inc's effort to create a shared world of its licensed classic monsters, such as "Frankenstein," "The Wolfman" and "The Creature From The Black Lagoon."
"The Mummy," which made $32.2 million domestically, even featured a "Dr. Jekyll" played by Russell Crowe, part of an effort to cross-pollinate ambitious franchises linked by an over-arching story.
Everyone Mimics Marvel
Both Time Warner, Universal, and every other major movie studio are attempting to mimic the success of the Marvel Studios shared universe - and the "Star Wars" interlocking world - overseen by the Walt Disney Co (NYSE: DIS).
Variety said "The Mummy" debut was on pace to make $32.2 million domestically and the studio hopes to recoup the low take in the United States in markets abroad.
The Patty Jenkins-directed "Wonder Woman," already the highest-grossing movie directed by a woman and by far the most successful superhero movie featuring a female title character, benefited from terrific word of mouth and unprecedented critical acclaim for Time Warner's superhero universe.
"Wonder Woman," set during World War I, garnered a 93 percent rating on the review aggregator Rotten Tomatoes. "The Mummy" had a 17 percent positive aggregate.
So far, the inspirational "Wonder Woman" - with its underlying message of the power of hope and love separating it from the derisively labeled "murderverse" of the other DC movies - comes closest to the lighter fare of the 15 linked Marvel Cinematic Universe movies owned by Disney.
It's also the first big hit of what so far has been a disappointing summer box office. Studio suits, citing the failure of movies such as "Elektra," "Catwoman," and "Supergirl," have long argued that a female superhero character can't carry a tentpole movie, ignoring the fact that the latter three movies weren't very good critically.
Related links:
Superhero Shakeup: Disney's Whedon Jumps To Rival DC
Time Warner's 'Wonder Woman' Jump Starts Summer Box Office
Image: Jamie, Flickr
View Comments and Join the Discussion!
Posted-In: DC Comics Gal Gadot Marvel NBC Universal The MummyNews Events Media Best of Benzinga