JPMorgan's Dimon Makes The Case For The Paris Accord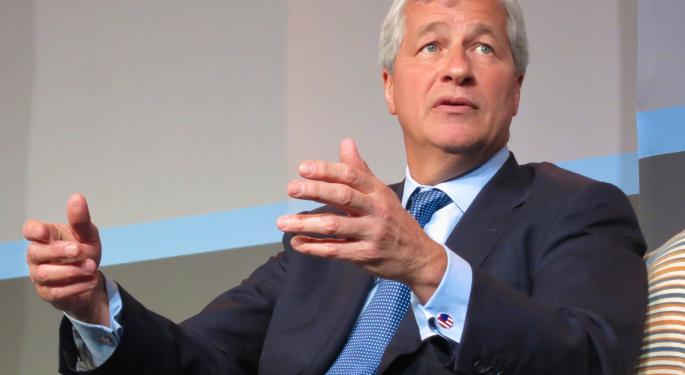 President Donald Trump's decision to withdraw from the Paris climate change accord has certainly resulted in a backlash from corporate America. Despite some evidence pointing to the accord as being a "bad deal" for American taxpayers and workers, CEOs including Tesla Inc (NASDAQ: TSLA)'s Elon Musk and Walt Disney Co (NYSE: DIS)'s Bob Iger decided to cut ties with the president.
Instead of sending a public message of severing ties with the president over the White House's stance on the accords, JPMorgan Chase & Co. (NYSE: JPM)'s CEO Jamie Dimon made it clear it is necessary for him to stay on as an adviser to the president so his voice is better heard.
"I am an American patriot," Dimon told Bloomberg from the sidelines of the JPMorgan Global China Summit in Beijing. "I want to help the president of the United States."
Dimon went on to criticize Musk and Iger who essentially quit the advisory board over one single issue.
Dimon added that he is in favor of a carbon tax but also acknowledged this represents a tax on consumers. Also, the executive believes that a reason to remain in the Paris accord is to show a sign of good faith to the international community and signal America remains a team player in global initiatives.
The executive also expressed his confidence in the White House's ongoing trade talks with China and the administration's pledge to create both free and fair trade agreements with many partners.
Related Links:
5 Things You Need To Know From Jamie Dimon's Letter On Morality And Society
Jamie Dimon's Annual Letter Has A Central Theme: Something's Wrong In America
________
Image Credit: By Steve Jurvetson - Flickr: Jamie Dimon, CEO of JPMorgan Chase, CC BY 2.0, via Wikimedia Commons
View Comments and Join the Discussion!
Posted-In: News Futures Politics Topics Management Events Global Markets Best of Benzinga