Exelon Will Shutter Three Mile Island Nuke Plant Unless Pennsylvania Bails It Out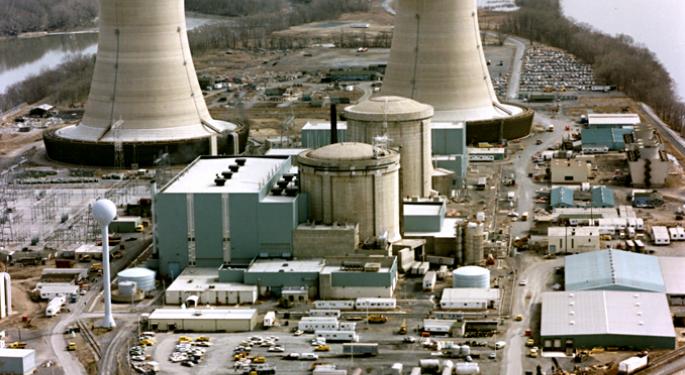 Exelon Corporation (NYSE: EXC), owner of the infamous Three Mile Island nuclear plant in Pennsylvania where a 1979 accident forced the evacuation of 140,000 people, said Tuesday it will shutter the operation for good in September 2019 unless the state bails it out.
The plant near Harrisburg, Pennsylvania, hasn't been profitable for the past five years. The company said last week it failed to auction off future energy production from Three Mile Island for the third year in a row.
"Today is a difficult day, not just for the 675 talented men and women who have dedicated themselves to operating Three Mile Island safely and reliably every day, but also for their families, the communities and customers who depend on this plant to produce clean energy and support local jobs," Chris Crane, Exelon president and CEO, said in a statement.
"Like New York and Illinois before it, the Commonwealth has an opportunity to take a leadership role by implementing a policy solution to preserve its nuclear energy facilities and the clean, reliable energy and good-paying jobs they provide."
Nukes Want To Be Treated Like Solar, Water And Wind
Exelon said it will send the U.S. Nuclear Regulatory Commission a shutdown notice within 30 days, take a one-time charge of $65 million to $110 million in 2017 and accelerate roughly $1 billion in depreciation and amortization through the deactivation date.
The partial meltdown of one of the reactors occurred on March 28, 1979. Small amounts of radiation escaped, though no injuries were reported. Tens of thousands were evacuated for five days until the cleanup and repairs could be made.
The accident, the worst nuclear mishap in U.S. history, triggered a huge anti-nuclear fury and, because of an abundance of natural gas, a turn away from nuclear power, which had boomed in the 1960s.
Exelon shares were up 0.82 percent at $36.12 after the news was announced.
"Despite producing 93 percent of the Commonwealth's emissions-free electricity and avoiding 37 million tons of carbon emissions — the equivalent of keeping 10 million cars off the road every year — nuclear power is not included in the state's Alternative Energy Portfolio Standard (AEPS)," the company said in a statement.
Christina Simeone, of the Kleinman Center for Energy Policy at the University of Pennsylvania, said the mid-Atlantic grid operator, PJM, and the U.S. Department of Energy have taken first steps toward policies or recommendations that could help nuclear power plants.
"I definitely think they are responding to some profound changes in the market as a result of very low prices for natural gas and hyper-competitive natural gas resources," Simeone told CBS.
Related Links:
The Potential 'Rip Your Face Off' Uranium Rally
What Role Will Nuclear Play In The Future Of U.S. Energy?
______
Image Credit: By United States Department of Energy [Public domain], via Wikimedia Commons
Posted-In: News Futures Commodities Politics Legal Events Markets Media Best of Benzinga
View Comments and Join the Discussion!