Davita Responds To John Oliver Dialysis Criticism: We Run A 'Pretty Lean Operation'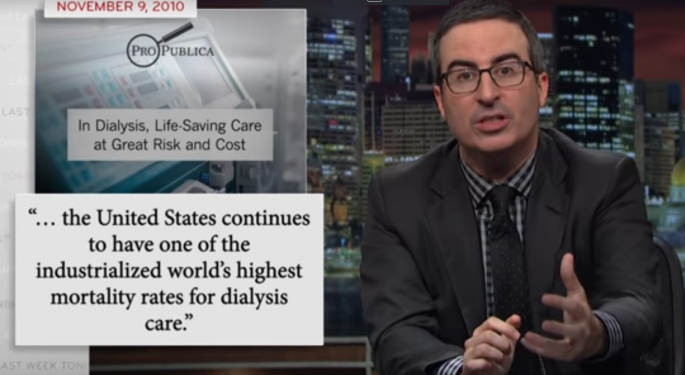 John Oliver, the host of "Last Week Tonight," roasted Davita Inc (NYSE: DVA) Sunday for alleged abuses in its kidney dialysis business, and when approached for response, Davita hedged.
"We are proud of our differentiated clinical outcomes, our teammates' dedication to patient care and our strong culture," a spokesperson told Benzinga. "Our teammates are passionate about delivering high-quality patient care and enabling our patients to live fulfilling lives. We will continue to advocate for our patients and invest in our teammates and our culture."
When pressed further, the representative confirmed that the statement communicated the company's full response.
What Oliver Said
Referencing Davita's control of dialysis treatment, for which it and peer Fresenius Medical Care AG & Co. (ADR) (NYSE: FMS) operate about 70 percent of the nation's 7,000 outpatient centers, Oliver expressed concern for the half million Americans seeking care.
Davita workers, many of whom are attempting to unionize to address staffing shortages, are pressured to shift between patients as quickly as possible, which Oliver reported results in error. A former employee featured on the show said the workload forces unsanitary clinic conditions and improper disinfection of tools and machinery.
Meanwhile, an interviewed patient questioned whether she was getting her complete treatment considering how she's rushed in and out of services.
"You can't just speed up dialysis because you're behind schedule," Oliver said. "It is a critical medical procedure, not a shower."
Who's To Blame
Oliver partly pointed to government oversight.
"Davita runs a pretty lean operation, which the government allows," Oliver said. "Federal guidelines don't require clinics to have a doctor on site at any given time, which seems a little odd. They also require that only one nurse be present in the facility, and a study has found that for-profit clinics have about as third fewer nurses than their non-profit competitors, and that might explain why some Davita patients say they can feel like they're a product on a factory line."
He also questioned the unconventional leadership of the company's "showboating," "Man in the Iron Mask"-obsessed CEO, Ken Thiry, who enters meetings on horses and refers to the company as a village and himself as the mayor. While Thiry undeniably aided shareholders, saving the $13 billion company from near bankruptcy and leading it to $800 million in profits last year, he hasn't necessarily done as much for patients, Oliver said.
Related Links:
Here's What The FDA Approval Of Keytruda Means For Merck, And For Bristol-Myers
Catalysts Growing Like Weeds For Zynerba Next Quarter
_______
Image Credit: Screengrab from "Last Week Tonight with John Oliver"
Posted-In: John OliverNews Health Care Management Exclusives Media Interview General Best of Benzinga
View Comments and Join the Discussion!