Which Companies Are Poised To Win From Melting Of Arctic Circle?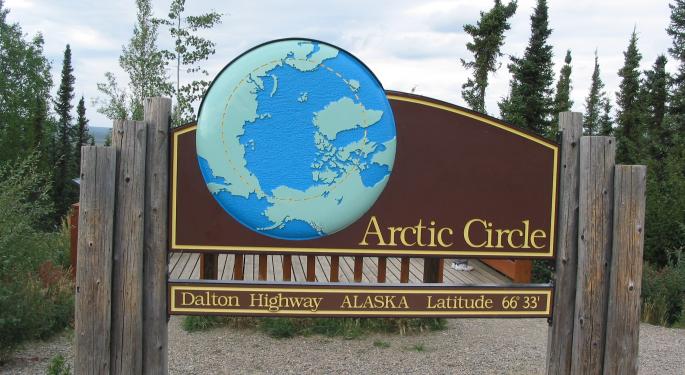 For polar bears and conservationists, the Arctic Circle's clearing is a source of lamentation, but for those involved in bulk transportation, it may be cause for celebration.
As obstructive ice melts, shipping routes open, which in some cases provide more direct paths between destinations, limiting both travel time and cost.
Seaport Global analyst Magnus Fyhr told Benzinga Dynagas LNG Partners LP (NYSE: DLNG) and Teekay LNG Partners L.P. (NYSE: TGP) are particularly poised to benefit from the opening of Arctic trade routes.
"Both these companies are exporting LNG [liquefied natural gas] from the Yamal project to Asia," Fyhr said.
Yamal Project Beneficiaries
The $27 billion, three-train liquefaction terminal, a project between Total SA (ADR) (NYSE: TOT), Novatec and CNPC, is expected to open in 2017 in Russia's Siberian Yamal Peninsula. A clearer Northern Sea Route (NSR) would provide critical access to the region's yet-untapped energy supply, which Fyhr expects to play a critical role in Dynagas' five-year growth.
"The Yamal project is strategic to Russian diversification away from the European gas end markets, and we expect that LNG cargoes could eventually find their way to Asia utilizing the NSR," Seaport wrote. "The NSR is believed to significantly reduce shipping times, shortening distances by nearly one half and lowering shipping times by up to two weeks compared to traditional shipping routes through the Suez Canal."
A True Advantage?
Fyhr added that the Arctic openings could also serve to the advantage of foreign bulk shipping competitors, such as China Ocean Shipping, which recently discussed launching a route through the northern waters. The path could potentially hasten delivery between Asia and western trading partners.
"Yet the commercial viability of the NSR still has yet to be tested extensively as only 50 vessels utilized the route in 2014, down from 70 in 2015," Seaport wrote in a recent note.
One shipping company representative said arctic trade routes had been considered a few years back but hadn't been revisited since, in part because they are neither immediate nor cost-effective solutions. The cost of hiring an ice breaker to pave the way and ensure safe passage for cargo ships is far more expensive that the cost of current roundabout routes.
Golden Ocean Group Ltd (NASDAQ: GOGL), Star Bulk Carriers Corp. (NASDAQ: SBLK) and DryShips Inc. (NASDAQ: DRYS) were unavailable to comment on their respective interest in Arctic travel.
Related Links:
3 Legitimate Catalysts Driving The Illegitimate Rally In Shipping Stocks
Shippers On A Run Again Amid No News
________
Image Credit: By Ixfd64 [Public domain], via Wikimedia Commons
View Comments and Join the Discussion!
Posted-In: News Education Futures Politics Topics Travel Exclusives Markets Best of Benzinga