Green Flower Media CEO Explains Why Cannabis Education Is Key To Improving People's Lives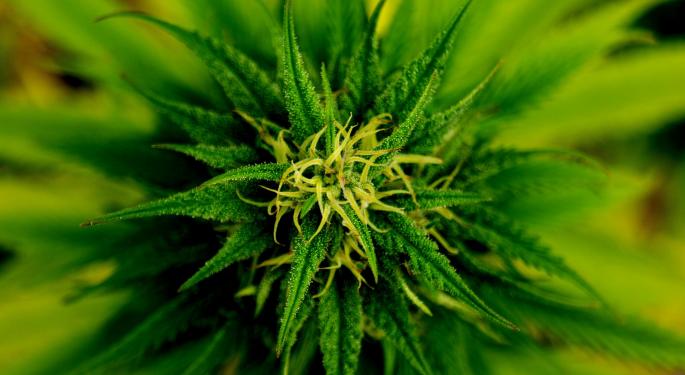 Green Flower Media is the world's largest platform for trusted cannabis education, information and guidance. Last weekend, the firm hosted its 2017 Cannabis Health Summit, featuring over 30 marijuana doctors, experts, celebrities, scientists and opinion leaders, including activist Steve DeAnglelo, former NFL players Eugene Monroe and Eben Britton, UFC Heavyweight Champion Bas Rutten and New York Times bestselling author Gay Hendricks.
The event made large waves in the cannabis industry — and was even dubbed "the TED Talks of Cannabis," so we decided to reach out to Green Flower's founder and CEO Max Simon, to find out what all the fuzz is about.
"Everyone's aware of the cannabis boom that is happening right now, where states are legalizing and making marijuana more accessible, but the problem is that very few people around the world (including people inside of the industry) really know anything about the plant," Simon explained. "Doctors can't tell you how it works for different ailments and conditions; consumers don't really understand all these new delivery methods; and people are really confused by how do they interact with the plant in the way that provides the value to their life that they are seeking."
So, Green Flower Media came to be as a way to solve these problems. What they do is connect with the globe's top doctors, scientists, researchers, thought-leaders, cannabis practitioners and other people working with the plant every day and help them "translate their knowledge and expertise into online classes, online videos and online events that give people step-by-step instructions on how to really use the plant to improve the quality of their life."
The Challenges In The Cannabis Industry
Benzinga: Why do you think marijuana legalization was so challenging on a federal level. Do you have any personal experiences to share? Did you face similar hurdles with Green Flower Media?
Simon: Green Flower Media is 100 percent an educational media company, which means that we do not touch the plant, distribute the plant, sell the plant, or interact with the plant in any way, shape or form. That translates into meaning on, both a state and a federal level, there is nothing we do ever that is at all in question of infringing upon state or federal laws.
However, at the same time, Chase Bank — JPMorgan Chase & Co. (NYSE: JPM) — who approved us fully, transparently as a merchant service to process our transactions online for our educational media, randomly decided to shut us down as a merchant citing reputational risk. After digging through layers of customer support, staff and managers, I finally got to somebody who was honest with me and just said 'it's just because your content type is about cannabis.'
So, this is affecting everybody in the industry, at every level.
When people hear cannabis or marijuana, because of the decades of propaganda that has been created, we immediately assume that this is some illegal, underground, shady operation. So, part of what our mission at Green Flower is to use technology and the world's top experts to distribute factual, scientific, up-to-date information.
Breaking The Stigma
As one might expect, Green Flower Media received hundreds of personal stories every month: people using cannabis to deal with sleep disorders, epilepsy, depression, etc. Among these patients, Green Flower picked one to present at the Health Summit. It was a 17-year-old boy from Colorado who used cannabis to treat his Crohn's disease.
"[Coltyn] was going so negatively downhill from his Crohn's disease that his doctors said they thought he had six more months to live," Simon shared. At that time, the doctors suggested he should consider alternative therapies since conventional methods were not helping. That's when Coltyn came across cannabis, ultimately finding a way to use the plant that was "really transformational."
"This 17-year-old kid told his story in front of a global audience about how he went from almost being on his deathbed to going into 100 percent remission from his Crohn's disease with nothing but cannabis oil," the CEO continued. "To watch a 17-year-old kid share that story and tell you his own direct experience, was impactful and educational."
"What people don't understand is that there is a tremendous amount of ways to give cannabis to anybody that doesn't get him or her high," he responded when asked questioned about getting a minor "high."
The Q&A
Benzinga pushed Simon with some tougher questions. Keep in mind, these do not reflect Benzinga's views, nor are they based on lack of knowledge, but rather seek to address concerns that readers have voiced in the past.
Benzinga: You said that, if you don't want to get a kid high, but you want to treat him with cannabis, there are options. But, how can you ensure this kid will not transition to recreational cannabis as a minor? In other words, how can you make sure that a 17-year-old kid treating himself (or is being treated) with cannabis will not become a "pothead" within the next year?
Simon: Let's put things in perspective for a moment.
If your kid is withering away from Crohn's disease, or suffering from epilepsy, or has cancer or has any of these very debilitating conditions, we will always default to this concept of not wanting to get people high when we are neglecting the fact that these children's state of being right now is in a space of suffering.
So, is it worse to go through a process that at the worst-case scenario might make the kid feel a little euphoric but could potentially lead to the reversal or healing of these debilitating life challenges? Or, because we can be so afraid of this idea of psychoactivity or a kid being high, which only comes from a stigma, avoid this path at all?
That doesn't totally address your question of what to do to prevent a kid from being a pothead later, because the data actually doesn't show that most people progress to these debilitating ways of using the plant. I think I'm trying to drive the point home that the only reason we're so worried as a society about this idea of anybody getting high is because we have been so programmed to believe that what that means is life destructive, when in reality (and what the science tells us is that) sometimes when somebody is going down a spiral of terrible health the psychoactivity can get them to eat again, to sleep again, to feel more optimistic about their life, to approach their healing condition with a more positive attitude, which outside of the actually healing properties of the plant should not be demonized in the way that people have been thought to be so negative.
More From Benzinga:
Montel Williams Talks About His Cannabis Company And Its Emphasis On Patients
View Comments and Join the Discussion!
Posted-In: Cannabis Education Emerging Markets Health Care Topics Top Stories Exclusives Markets Best of Benzinga