Speculative Short To M&A Darling, A Look Back At StraightPath Communications Journey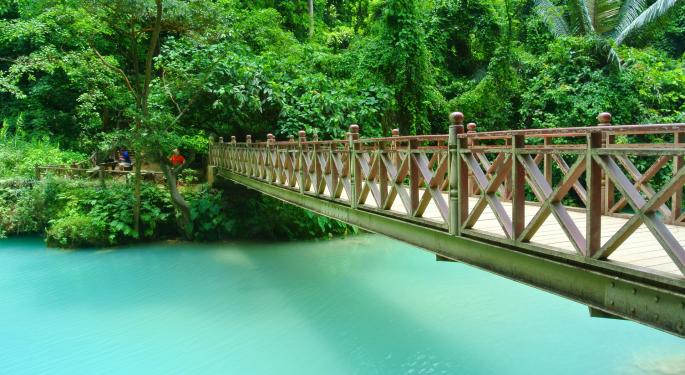 Straight Path Communications Inc (NYSE: STRP) shares have been on the high since early April after AT&T Inc. (NYSE: T) clinched a $1.6 billion all-stock buyout deal for the company, valuing it at $95.63 per share. The stock was rangebound for a long time in the run-up to the announcement.
Since picking up steam, the stock has never looked back. More buyout talk has added further momentum to the rally, this time from Verizon Communications Inc. (NYSE: VZ).
Source: YCharts
Bidding War On The Anvil
The company confirmed in three instances in the past regarding a multi-national company being interested in it.
On April 25, a press release from the company said the directors determined that an unsolicited all-stock offer from a multi-national telecom company, valuing it at $104.64 per share, was superior to AT&T's offer.
Subsequently, on May 3, the unnamed bidder raised its offer price to $133.96 per share, which has now been sweetened to $184 per share. Making public the latest offer, Straight Path said AT&T now has three business days to match or exceed the competing offer.
In the eventuality of the agreement with AT&T being terminated, Straight Path is liable to pay a break-up fee of $38 million. The unnamed bidder has supposedly agreed to pay the termination fee on its behalf, Straight Path said.
The unnamed bidder has since been indentified as Verizon.
Why The Keen Interest?
The multi-party interest in Straight Path stems from the fact that it is one of the largest holders of 28 GHz and 39 GHz millimeter wave spectrum in the country. AT&T had said in April that it sees the deal supporting its leadership in 5G, which will accelerate the delivery of new experiences for customers and businesses like virtual and AR, telemedicine, autonomous cars, smart cities and more.
According to Chardan Capital Markets, Straight Path controls 222 billion MHz-POPs, megahertz per population, in the 28 GHz/30 GHz segment of the spectrum, which has been designated for 5G small cell use.
Despite being chased by multiple parties, Straight Path has also been targeted by short sellers, including Kerrisdale Capital and TheStreetSweeper. Shortssqueeze.com puts the short percentage of float at 42.06 percent currently, although a small improvement from 49.3 percent prior to the AT&T deal announcement.
It is believed the loser of the bidding war for Straight Path may look at other spectrum plays such as DISH Network Corp (NASDAQ: DISH) and Globalstar, Inc. (NYSE: GSAT).
Ranking High On Short Sellers' List
Specifically, Kerrisdale predicted 70 percent downside for the stock in January after a 24 percent run-up in the stock following a $15 million settlement agreement with the FCC related to its wireless spectrum licenses. Kerrisdale had said then AT&T and Verizon might not find much value in the company due to the abundance of competing spectrum on the market.
Following AT&T's agreement on April 10, Kerrisdale's Sahm Adrangi told Benzinga he doesn't see the AT&T materializing, and traders should not read much into the deal when it comes to other spectrum owners.
At time of publication, Straight Path shares were up 32.5 percent at $213.97.
Related Links:
T-Mobile Gets FCC Go-Ahead For First 5G Devices
FCC Announces April 'Infrastructure Month' - These Companies Stand To Benefit
View Comments and Join the Discussion!
Posted-In: M&A News Short Sellers Short Ideas Rumors Movers Tech Media Best of Benzinga