With House Vote, Trump And GOP Cheer As Obamacare Officially Begins Roll-Back Process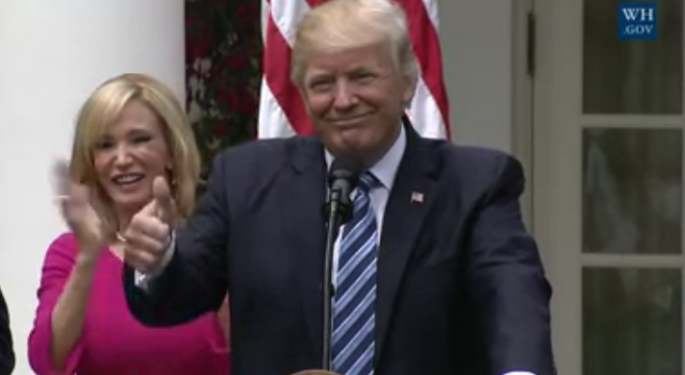 After months of compromise and setbacks, the U.S. House of Representatives secured just enough votes Thursday to pass the American Health Care Act, pushing the Republican bill one step closer to supplanting the Affordable Care Act.
The Bill
Medicaid limitations, stripped protection of pre-existing conditions and state waivers for essential health benefits propelled the latest model with a 217–213 tally. After 20 Republicans and all Democrats cast nays, the legislation is now off to the Senate, where Republicans are said to be skeptical about the text's merits.
Leaving Many Dissatisfied, Across The Aisle
The prospect of significantly diminishing the number of Americans with health insurance — estimates range between 14 million and 24 million — has left many senators inclined to defect from the GOP platform. In fact, a number have already said they will author a Senate version distinct from the House bill, which has not yet been evaluated by the Congressional Budget Office.
Helping Big Business And Bolstering The Rich?
Some assert the Republicans are violating another alleged cause with the AHCA, as an Obamacare repeal would bolster the wealthy and big health care companies at the expense of small businesses.
"The economic and human impacts of this bill on Main Street Alliance small businesses can't be overstated — it would kill the local economies small business owners rely on to keep their doors open," Main Street Alliance National Director Amanda Ballantyne said in a press release. "Millions of people who own or work in small businesses would face losing their health care as a result of the vote today — the 4 million small business owners, employees and self-employed entrepreneurs that gained health insurance under the Affordable Care Act, and the additional 6.1 million small business workers that enrolled in Medicaid as part of its expansion."
ACLU: It's A Death Warrant
Declaring that the AHCA will cost lives and enable discriminatory practices, the ACLU put out a statement calling on the Senate to shoot down the legislation.
"Now that this misguided legislation moves to the Senate, we urge senators of both parties to declare this bill dead on arrival," the letter read. "The voice of the people will not be silenced until they do."
Health Care SPDR (ETF) (NYSE: XLV) traded up 0.6 percent Thursday in anticipation of the vote, while iShares NASDAQ Biotechnology Index (ETF) (NASDAQ: BIIB) closed up 0.65 percent.
Related Links:
5 Things Republicans Want To Change About Obamacare But Might Not Be Able To
Stocks To Watch As CBO Expected To Release Score For GOP Healthcare Bill
What Wall Street Thinks Of The New Healthcare Reform Bill
__________
Image Credit:"President Trump Signs the Executive Order on Promoting Free Speech and Religious Liberty.webm on May 4, 2017" By The White House [Public domain], via Wikimedia Commons
View Comments and Join the Discussion!
Posted-In: ACA ACHANews Health Care Politics Legal Events General Best of Benzinga