What's A Few Billion Between Friends? Jeff Bezos Closes In On 'World's Richest' Title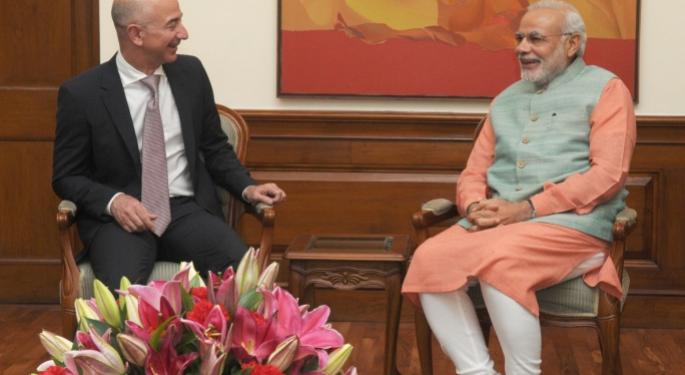 What's the difference between Bill Gates and Jeff Bezos? Less than $5 billion.
According to a Bloomberg report, Amazon.com, Inc. (NASDAQ: AMZN)'s founder and CEO Bezos is worth $3.3 billion more on Friday than he was on Thursday at $79.0 billion after the company's earnings report sent shares higher by almost $50 per share, or 3 percent.
Bezos has added a cool $13.7 billion to his net worth since the start of 2017 and already surpassed Warren Buffett on the richest persons list last year. He is now just $0.2 billion shy of surpassing the fashion icon Amancio Ortega (founder of Zara and other fashion lines) as the world's second richest person, who boasts a net worth of $79.2 billion.
Gates, the founder of Microsoft Corporation (NASDAQ: MSFT) and now full-time philanthropist, is worth $87.3 billion and has held the top spot for some time, even though Microsoft's 31 percent return over the past year lags Amazon's 48 percent gains.
As such, 2017 could see Bezos become the world's richest person. If it doesn't happen this year, it could happen in the coming years, as some analysts and experts argue Amazon will be worth $1 trillion in the future.
Here is a list of the top 10 richest people in the world (as of Friday), based on the Bloomberg Billionaires Index:
Bill Gates: $87.3 billion.
Amancio Ortega: $79.2 billion.
Jeff Bezos: $79.0 billion.
Warren Buffett: $74.9 billion.
Mark Zuckerberg: $63.5 billion.
Carlos Slim: $58.9 billion.
Bernard Arnault: $50.1 billion.
Charles Koch: $47.9 billion.
David Koch: $47.9 billion.
Larry Ellison: $47.3 billion.
Related Links:
The Combined Net Worth Of The World's Billionaires Is $8 Trillion
Salary? What's A Salary? The Highest Paid Execs By Stock Holdings
_______
Image Credit: "Jeff Bezos And Prime Minister Narendra Modi" By Narendra Modi - CEO of Amazon.com calls on PM, CC BY-SA 2.0, via Wikimedia Commons
Posted-In: Amancio Ortega Bill Gates Jeff Bezos Warren BuffettNews Management Tech Media Best of Benzinga
View Comments and Join the Discussion!