Trump Intimates Bet On, Doesn't Endorse France's Le Pen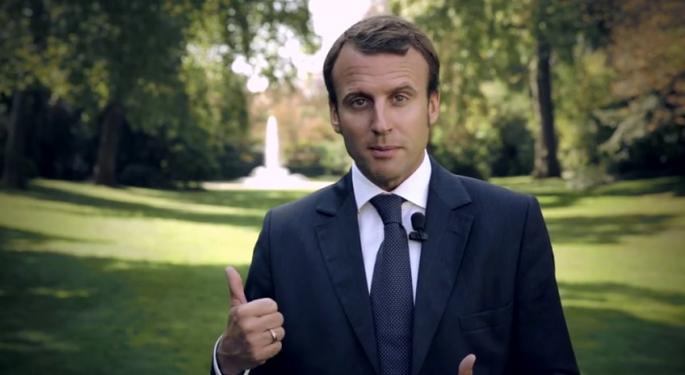 What do U.S. President Donald Trump and French presidential frontrunner Emmanuel Macron have in common?
Quite a bit, actually.
Macron wants to slash state welfare benefits, while Trump's efforts to repeal the Affordable Care Act could corrode the country's Medicaid program. Macron wants to invest $54.4 billion in French infrastructure projects, while Trump has a similar, $1-trillion ambition for the United States. Macron wants to bolster France's defense, prison and law enforcement capacity, while Trump prioritizes defense funding and talks a big game against crime. Both also champion international intervention in ongoing Syrian conflicts.
Leveraging their similar backgrounds, the American business mogul and the Rothschilds investment banker also advocate significant corporate tax cuts, domestic hirings and enhanced autonomy for businesses.
And that's just policy. The two entered their respective races to shake up the establishment, and The Street pointed out their shared ability to rattle the markets on their victories. The SPDR S&P 500 ETF Trust (NYSE: SPY) traded up 3.2 percent and the iShares MSCI France Index (ETF) (NYSE: EWQ) 5.8 percent on the French primary results, and the respective indices popped 6.4 percent and 5.4 percent between Trump's election and inauguration.
Birds Of A Feather
Despite their parallels, and against the consensus of other international leaders, Trump has intimated his bet on — notably, not his endorsement of — Macron's opponent, Marine Le Pen.
"She's the strongest on borders, and she's the strongest on what's been going on in France," Trump said in an interview with the Associated Press. "Whoever is the toughest on radical Islamic terrorism, and whoever is the toughest at the borders, will do well in the election."
Le Pen represents the nation's extreme right, and her populist approach, opposition to European Union integration and globalization and pledge to deport undocumented immigrants echoes the platform on which Trump campaigned.
Although Trump won't throw his weight behind Le Pen or Macron, he has entertained the explicit endorsement of Le Pen, who celebrated his presidential victory.
"Donald Trump has made possible what was presented as completely impossible," Le Pen told CNN. "So it's a sign of hope for those who cannot bear wild globalization. They cannot bear the political life led by the elites."
Back To France
Macron and Le Pen, having narrowly routed France's mainstream candidates with 24 percent and 21.3 percent of the votes, respectively, will square off again May 7 in a final election.
Defeated candidates have encouraged their proponents to vote Macron — or, perhaps more accurately, not to vote Le Pen — which tasks the frontrunner with uniting defected allies from the right and the left.
To appeal to a broader voter base, Le Pen temporarily resigned Monday from leadership of the National Front party, which she has attempted to distance from its xenophobic and anti-semitic roots.
"I will feel more free and above partisan considerations," she said.
Related Links:
Analysts Are Now Offering Their Take On France's Election
French Connection: What An Election Means For ETFs
________
Image Credit: By Gouvernement français, CC BY-SA 3.0 fr, via Wikimedia Commons
Posted-In: News Education Emerging Markets Eurozone Politics Events Global Markets Best of Benzinga
View Comments and Join the Discussion!