Apples And Oranges: Comparing Facebook's Massive Numbers To A Bunch Of Other Stuff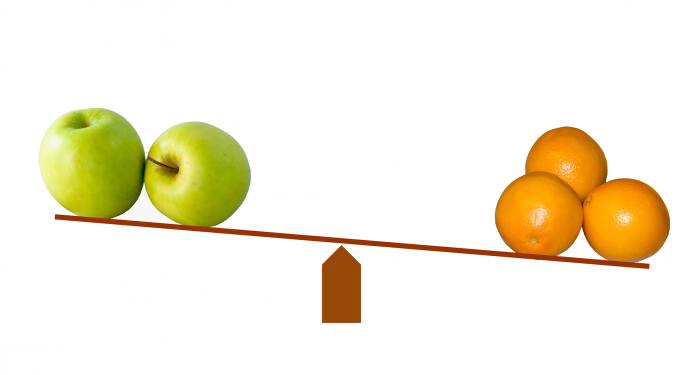 You can love it or hate or not give a hoot one way or another, but it sometimes can be difficult to grasp the sheer size of the king of all social media, Facebook Inc (NASDAQ: FB).
Here's a look at the one-time MySpace rival, with an assist from Zephoria Digital Marketing and Loop Capital Markets, by the numbers:
If you count all of our evolutionary ancestors, it took planet earth 6 million years to reach 1 billion people. It took Facebook 8.7 years to reach 1 billion users.
More people use FB's Instagram Stories every day — 200 million — than commute to work every day (143 million) in the United States.
If the 1.74 billion mobile active users were a country, Facebook Nation's phone users would outnumber the populations of China (1.38 billion) and India (1.32 billion).
Facebook's mobile Messenger service alone is nearly quadruple the population of the United States, with 1.2 billion active users.
Facebook's $408.4 million market cap, if it were converted to GDP, would place it 28th among the world's 196 countries, behind Iran and ahead of Thailand.
There are 83 million fake profiles on Facebook. Based on a random sampling, 5.86 million of the nation's 18.2 million undergraduates in the United States have used fake IDs.
Facebook has more advertisers per month (5 million) than 27 U.S. states have people.
Facebook has more daily active users and more active mobile users than McDonald's Corporation (NYSE: MCD) has Big Mac eaters annually around the globe (900 million).
The United States has about as many guns (270 million to 310 million) as Facebook has users in Europe (307 million).
Related Links:
Facebook's Big Push Into Augmented Reality
Facebook Focusing On Other Realities As Company Unveils Plans For Next Phase
View Comments and Join the Discussion!
Posted-In: Loop Capital MarketsEducation Emerging Markets Top Stories Markets Tech Trading Ideas General Best of Benzinga