The Legal And Financial Implications Surrounding Aaron Hernandez's Suicide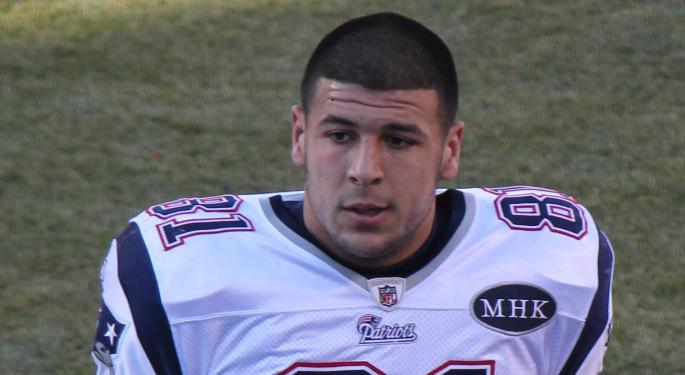 By killing himself in his prison cell while awaiting appeal of a murder conviction, former National Football League tight end Aaron Hernandez essentially died an innocent man under a Massachusetts law that once protected the assets of the late Enron CEO.
As a result, the New England Patriots may owe the Hernandez family up to $6 million in bonus and salary payments the team halted after Hernandez was arrested in 2013.
Five days before his death Wednesday, Hernandez was acquitted of the murders of Safiro Furtado and Daniel de Abreu in 2012. He was in the process of appealing his conviction for the 2013 murder of Odin Lloyd.
Legal Loophole Helped Late Enron Chief's Estate
Because he was appealing his sentence of life without parole, his death triggers a Massachusetts statute that presumes innocence until all legal avenues have been exhausted, Martin W. Healy, chief counsel for the Massachusetts Bar Association, told the New York Times.
"Aaron Hernandez goes to his death an innocent man under the eyes of the law," said Healy.
Kenneth L. Lay, former CEO of Enron, died of a heart attack in 2006 while awaiting sentencing for fraud, which the Times said meant the government lost access to $44 million for restitution.
Civil Suits Will Target Estate
Lawyers for the families of Lloyd as well as de Abreu and Furtado likely will seek an outstanding bonus payment due Hernandez from the Patriots through wrongful death civil suits.
"At the time of his original arrest in the Odin Lloyd case, my understanding was that there was a $3.5 million bonus that we've made a subject of an action in the Superior Court," William Kennedy, lawyer for the Abreu and Furtado families, told the CBS affiliate WBZ-TV in Boston.
But Michael McCann, law professor at the University of New Hampshire, told FOX Business that the lack of a guilty verdict on the player's record could complicate the civil cases.
In addition to a bonus that has been reported as either $3.25 million and $3.5 million, the Patriots also may have to pay $2.5 million in salary voided after his arrest.
Hernandez hanged himself in his cell at Souza-Baranowski Correctional Center in Shirley, Massachusetts.
Related Links:
Amazon Grabs 'Thursday Night Football' Streaming Rights, Another Blow For Twitter
The Champs Are Here: Tom Brady, John Cena And Defying The Critics
_________
Image Credit: By Jeffrey Beall - Own work, CC BY 3.0, via Wikimedia Commons
View Comments and Join the Discussion!
Posted-In: Aaron HernandezNews Rumors Legal Sports Events Media General Best of Benzinga