3 Things You Need To Know About Tesla This Week: Recall, Lawsuit And Promising Leasing Opportunity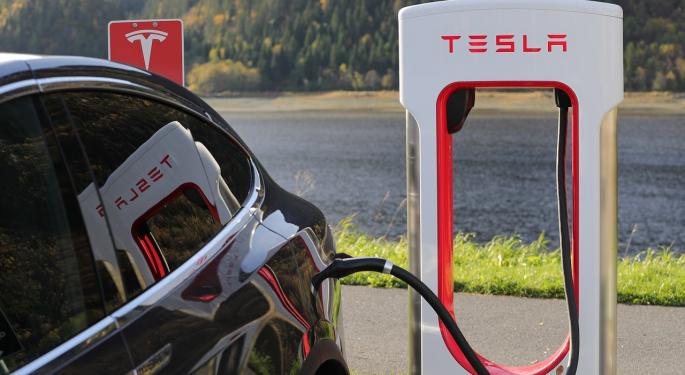 Tesla Inc (NASDAQ: TSLA) of late has been transforming into an investors' darling. A telling proof for this claim is the company's market capitalization recently surpassing that of General Motors Company (NYSE: GM) — however, GM is back on top, thanks to the former's pullback from an all-time closing record of $312.39 reached on April 10.
It is not without rhyme or reason that investors are flocking to Tesla. The immediate catalyst is the launch of its mass-market Model 3 electric vehicle. In early April, Tesla pre-announced better-than-expected first-quarter deliveries forecast.
Ethically Yours: Tesla's Voluntary Recall
Telsa announced it is voluntarily recalling 53,000 of its Model S hatchback and the Model X crossover vehicles, with 31,000 of those earmarked for the recall located in the United States.
The reason? The electric parking brakes failed to release, resulting in a small gear in the parking brakes becoming fractured.
The remedy? The company has promised to replace the brakes in all affected vehicles. A CNET report said the replacement would take less than 45 minutes and that the company hopes to have replacement parts for all recalled vehicle by October.
The company emphasized that the parking brake has nothing to do with the vehicle's regular brakes.
Tesla Caught In a Legal Tangle
The much-touted Autopilot feature was at the receiving end, as the company was slapped with a class action lawsuit filed by law firm Hagens Berman on behalf of Tesla owners.
The lawsuit alleges that Tesla saddled them with a half backed technology in the form of Enhanced Autopilot AP2.0 software. The feature, which is costing customers $5000, is "essentially unusable and demonstrably dangerous," the complaint said.
"Tesla has endangered the lives of tens of thousands of Tesla owners across the country, and induced them to pay many thousands of dollars for a product that Tesla has not effectively designed," said Steve Berman, managing partner of Hagens Berman, which represents the plaintiffs.
"Tesla sold these vehicles as the safest sedan on the road. What consumers received were cars without standard safety enhancements featured by cars costing less than half the price of a new Tesla, and a purported 'Enhanced Autopilot' that operates in an erratic and dangerous manner."
Promising Potential In Leasing Batteries For Tesla Semi
Following CEO Elon Musk's announcement of unveiling an all-electric semi-truck named Tesla Semi in September, analysts have begun number crunching over the promise it holds.
"We believe TSLA could sell its autonomous, electric semis without batteries, which would then be separately leased to customers. With a ~250–300 mile range, these batteries could then be swapped out at battery swapping stations (TSLA's passenger car battery swapping demo took 90 seconds but we conservatively estimate that a truck battery swap would take at least 5 minutes) built at Tesla Supercharging stations and truck stops around the country, " an electrek article said, quoting Morgan Stanley analysts Adam Jonas and Ravi Shanker.
Based on the assumption a truck carrier spends about $0.50 per mile of fuel and does about 100,000 miles per year, the analysts believe leasing of Tesla batteries could help the carrier save 50 percent on the fuel bill. This is based on the premise that Tesla charges $0.25 per mile for leasing the battery out.
Meanwhile, Tesla gets to earn $25,000 per truck per year as revenues from leasing. Assuming Tesla snares 10 percent share of the truck parc, the analysts see Tesla making $7.5 billion.
Tesla shares ended Thursday's session down 0.99 percent at $302.51.
Related Links:
Tesla Now Expected To Turn Cash Flow Positive By Next Year
Posted-In: News Travel Legal Events Tech Media Trading Ideas General Best of Benzinga
View Comments and Join the Discussion!