The Latest 'Furious' Film Could Be Biggest Global Movie Opening Ever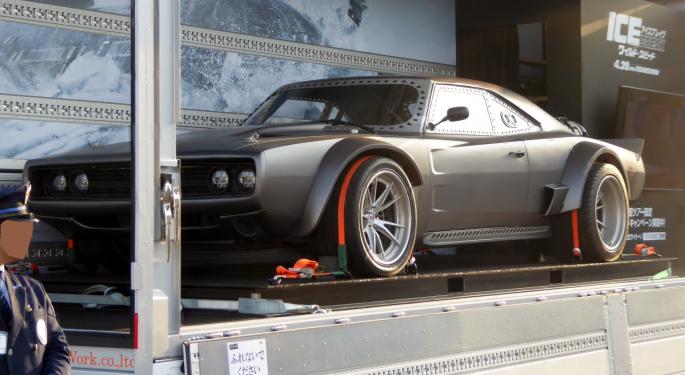 Moviegoers across the world made it clear over the weekend that the "Fast and Furious" franchise is still hot.
According to a Bloomberg report, "The Fate of the Furious" is on track to hold the title of the biggest global movie opening of all time. After being released over the long Easter weekend in 63 countries, the film took in $532.5 million in ticket sales. However, the current holder of the biggest opening weekend ever, Walt Disney Co (NYSE: DIS)'s "The Force Awakens" didn't premier in China until a month after its first release.
United Sates And Canada: A Fraction Of Ticket Sales
The eighth installment of the franchise scored big outside of the United States and Canada, accounting for just $100 million of ticket sales. In fact, China accounted for more ticket sales than the United States and Canada combined at 1.3 billion yuan, or around $190 million.
"It's just amazing how well-received this franchise is all over the world," especially in China, said Paul Sweeney, an analyst at Bloomberg Intelligence. "It's a franchise that kind of sneaks up on people — they don't necessarily think about it in the same breath as Star Wars or other bigger franchises. But this is the eighth installment and every single one has been just exceptionally successful."
The success of the film, especially internationally, has prompted Comcast Corporation (NASDAQ: CMCSA) and its Universal segment to make at least two more "Furious" films.
Related Links:
2017's Largest Movie Flicks Weren't Cheap To Make
How Many More Star Wars Movies Will Disney Need To Produce To Recoup The Cost Of Buying Lucasfilm?
_________
Image Credit: By Tokumeigakarinoaoshima (Own work) [CC BY-SA 4.0 (http://creativecommons.org/licenses/by-sa/4.0)], via Wikimedia Commons
View Comments and Join the Discussion!
Posted-In: News Emerging Markets Events Global Markets Movers Tech Media Best of Benzinga