What The Death Of The Indian Buffalo Industry Means For U.S. Beef Producers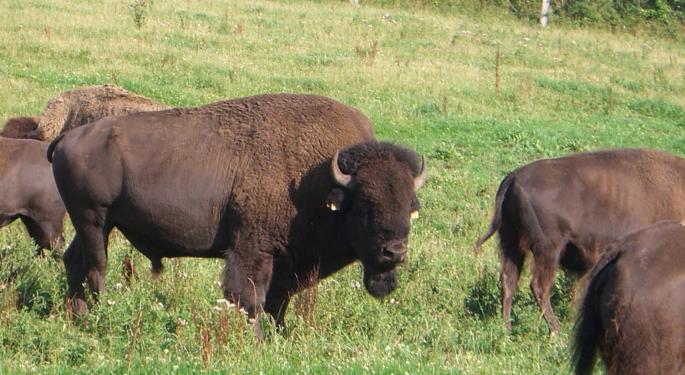 What does the death of the Indian buffalo industry mean for U.S. beef producers?
Actually, not much.
As Indian slaughterhouses brace for government-led shutdowns — a threat seemingly anchored in religious tension between Hindu politicians and industry-leading Muslims — the move is expected to have little impact on American beef producers such as Hormel Foods Corp (NYSE: HRL) and Tyson Foods, Inc. (NYSE: TSN).
A U.S. Market Vacuum
India dominates world beef exports with a 21 percent market share, but its suppliers "serve distinctly different market segments from those targeted by U.S. exporters," according to a report by the U.S. Department of Agriculture.
About 90 percent of U.S. exports serve markets closed to India based on health regulatory standards.
Gail Griffin, executive director of the Minnesota Buffalo Association, said the Indian industry primarily markets water buffalo, which is not in direct competition with U.S. cow and bison producers.
"Years ago, the bison industry requested of USDA that any water buffalo meat coming to the U.S. be distinctly labeled as such — water buffalo — and we received their complete support," Griffin said. "Beyond that situation, I am not aware of any competition between our species, nor the decline of their industry having any impact on the bison industry."
The Global Effect
However, the decline of the Indian industry could prompt market growth elsewhere in the world.
U.S.-bound buffalo exports totaled $4.6 million during the first three quarters of the 2016-2017 fiscal year, according to the Indian government's Ministry of Commerce and Industry. That's $4.6 million that will be redirected to meet the demands of American beef consumers.
The fresh demand may particularly boost Brazilian and Australian beef exporters, who only lost ground to Indian competitors in the last year.
A Shaken India
Slaughterhouse shutdowns are already disrupting local Indian economies, according to a New York Times report.
In Uttar Pradesh, which hosts 60 percent of the country's meat processing plants, dejected migrant workers are weighing whether to travel home or wait for possible regulatory turns.
Peers at India's 75 licensed plants, as well as dozens more operating illegally, are likely facing similar quandaries.
Meanwhile, the national economy stands to suffer from continued shutdowns. According to October reports, buffalo meat surpassed basmati rice last year as the country's largest agricultural export. Beef made up 23 percent of food-related exports, while rice fell to about 21.9 percent.
Additionally, global beef exports had brought in nearly $3.2 billion between April 2016 to January 2017 and nearly $5 billion in 2015.
Prior to recent reports, the ICRA, an investment research firm under Moody's, had predicted an 8 percent CAGR in exports over the next five years to a value of $5.98 billion. In the 2015-2016 season, exports hit $3.99 billion through a CAGR of 29 percent.
Related Links:
Fresh Beef At McDonald's Could Boost Sales, Brand Reputation, Says Credit Suisse
Posted-In: News Education Emerging Markets Commodities Global Markets Trading Ideas General Best of Benzinga
View Comments and Join the Discussion!