Watch SeaWorld: Massive Stake Acquired For 33% Premium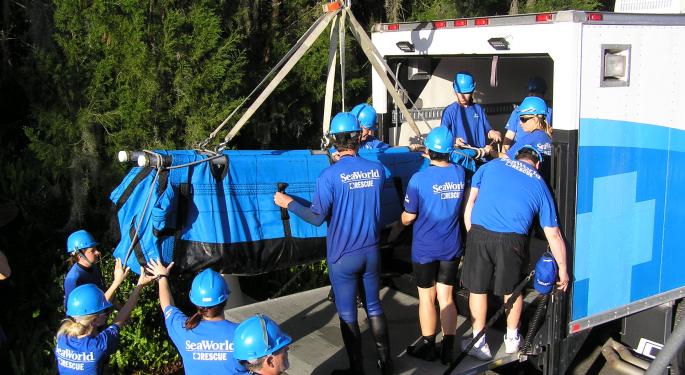 SeaWorld Entertainment Inc (NYSE: SEAS) is soaring in Friday's pre-market session after it announced that the Zhonghong Group, a wholly-owned subsidiary of Zhonghong Zhuoye Group, will acquire a 21 percent interest in it from certain selling shareholders at $23 per share, a roughly 33 percent premium.
The holding company has interest in leisure, tourism and culture industries.
The Transaction
SeaWorld said the Zhonghong Group would acquire a 21 percent equity interest in SeaWorld from certain funds affiliated with Blackstone at $23 per share, up from its Thursday's closing price of $17.31.
Other Terms Of The Agreement
SeaWorld also said it has agreed to offer advisory services to Zhonghong Group's affiliate Zhonghong Holding Co and signed support agreements, which provide for the former providing the latter with advice on the concept development and design of theme parks, water parks and family entertainment centers to develop and operate Zhonghong Holding, including exclusive rights in China, Taiwan, Hong Kong and Macau.
"Zhonghong Group is making a significant, long-term investment in SeaWorld, reflecting their appreciation of the strength of our brand, our potential to grow the company and a shared commitment to protect wildlife and the environment," said Joel Manby, president and CEO of SeaWorld Entertainment, Inc. "Zhonghong Group has a strong track record of performance in the leisure and travel industries, and a solid management team with valuable experience in theme parks, family entertainment, and real estate development in Asia."
Board Representation For The Zhonghong Group
The press release also said Zhonghong Group executives — Yoshikazu Maruyama, president of Zhonghong Group's American operation; and Yongli Wang, chief strategy officer of Zhonghong Group — will join SeaWorld's board, which is to be expanded to 11 members following the completion of the transaction.
The stake acquired by Zhonghong Group will be subject to a lock-in period of two years, while it will also be prevented from acquiring more than 24.9 percent stake in SeaWorld without the approval of the independent directors of SeaWorld's board and other customary restrictions.
The companies expect the deal to close in the second quarter of 2017. Upon the closing, Blackstone and its affiliates will neither have any interest in SeaWorld nor board representation.
In pre-market trading, the shares of SeaWorld were up 14.96 percent at $19.90.
Related Links:
What To Expect From SeaWorld's Expansion Into Abu Dhabi
When Is The Best Time To Visit Florida's Biggest Theme Parks?
_____
Image Credit: "USFWS SeaWorld Orlando's Animal Rescue Team, the U.S. Fish and Wildlife Service (Service), the Florida Fish and Wildlife Commission (FWC), and the US Geological Survey (USGS) returned Trinidad, a male Florida manatee, to the waters of Tampa Bay, Fla. With the manatee weighing more than 1,000 pounds, it took a collaboration of 11 people to carry the animal into the water." By U.S. Fish and Wildlife Service Southeast Region - Loading Trinidad., Public Domain, via Wikimedia Commons
Posted-In: blackstoneNews Contracts Topics Asset Sales Movers Trading Ideas General Best of Benzinga
View Comments and Join the Discussion!