Coal Companies Lobby For Clean Energy Subsidies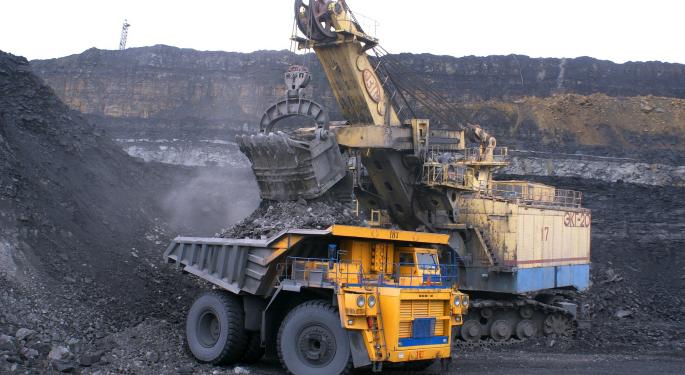 It is an altogether new makeover coal companies are seeking. In what might be a radically different perspective, these companies are striving to project coal as a clean energy source.
Trump's Unwavering Support
This is coming at a time when President Donald Trump is projecting himself as a savior of coal companies by questioning the veracity of the science behind climate change. During his election campaign, Trump vowed to resurrect the sagging fortunes of coal companies. He made good on his promise by selecting Scott Pruitt, a supporter of the fossil fuel industry, to head the Environmental Protection Agency.
Coal Industry On A Downward Spiral
According to statistics thrown up by a Business Insider article, about 44 percent of the coal produced in the United States came from companies that have declared bankruptcy over the past four years. Peabody Energy Corporation (OTC: BTUUQ), the largest coal producer in the United States, filed for bankruptcy last April, and in January 2016, the second largest coal producer, Arch Coal Inc (OTC: ACIIQ) sought bankruptcy protection.
Underlining the issued plaguing the industry, production statistics show coal production at the start of 2016 hit the lowest level since 1981, when a major strike impacted output. The EIA estimates that coal production declined 18 percent year-over-year in 2016. The number of people employed by the industry is currently at a record low.
Related Link: Solar Power Is Already Cheaper Than Coal In Several Countries
Why The Malaise?
Industry experts believe the setback to the industry stems from the waning demand for the product. Former President Barack Obama's thrust on reducing carbon emissions from the U.S. power plants made matters worse.
A host of reasons contributed to the declining demand for the commodity. The chief among them are:
Boom in natural gas output.
Falling cost of renewable energy sources like wind and solar energy, which are subsidized in a bid to promote their usage.
Environmental regulations.
Blueprint Of Coal Companies To Survive The Onslaught
Executives of three coal companies, namely Cloud Peak Energy Inc. (NYSE: CLD), Peabody Energy and Arch Coal are lobbying for a tax bill to extend government subsidies for reducing the environmental impact of coal burning. This would help them align their interest with those of their severe critics, including the Natural Resources Defense Council and the Clean Air Task Force.
Making Coal Environmental Friendly
In order to make coal environmental friendly, a technology called carbon capture and sequestration is being employed. This technology is expensive and unwieldy. It involves the capture of carbon dioxide, a greenhouse gas emitted during coal production.
A greenhouse gas is a compound that traps heat in the atmosphere, rendering the earth's surface warmer.
A New York Times report, quoting Richard Reavey, vice president for government and public affairs at Cloud Peak Energy said, "We can't turn back time. We have to accept that there are reasonable concerns about carbon dioxide and climate, and something has to be done about it. It's a political reality, it's a social reality, and it has to be dealt with."
Coal companies expressed skepticism in the ability of the gains of renewable energy and the robust environmental regulations in recent years to stabilize the climate and still meet the years to come. Their solution to the malaise is to facilitate capturing carbon from coal-fired and gas-fired power plants in a bid to ensure the world has low carbon future. This is premised on their argument that coal and other fossil fuels are still sine qua non to meet fuel needs over the next several decades.
If there is a shift in the mindset of utilities and the government with regard to the repositioning of coal, then this commodity and in turn coal companies could see renewed thrust in the years to come. Will the government act?
Posted-In: News Education Commodities Politics Topics Markets Media General Best of Benzinga
View Comments and Join the Discussion!