YouTube Video Views Reach 1 Billion Hours A Day; How Does Television Compare?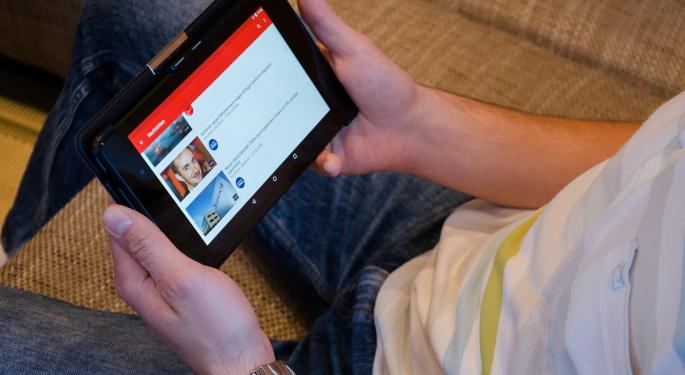 Alphabet Inc (NASDAQ: GOOG) (NASDAQ: GOOGL)'s YouTube unit may be bigger and more relevant than many had expected.
YouTube revealed in a blog post on Monday that it reached a new milestone as its users combined to watch one billion hours of content on a daily basis. Put into perspective, it would take one person 100,000 years to watch the total amount of content that all YouTube viewers watch in just one 24-hour period.
"That's the great thing about this milestone," YouTube's Cristos Goodrow, vice president of engineering wrote. "It represents the enjoyment of the fantastically diverse videos that creative people make every single day. Around the world, people are spending a billion hours every day rewarding their curiosity, discovering great music, keeping up with the news, connecting with their favorite personalities, or catching up with the latest trend."
YouTube, unlike traditional TV that follows a set schedule of programming, developed a personalized algorithm that accurately finds videos that users may find relevant based on their past viewing habits. The Wall Street Journal noted that YouTube teamed up with the Google Brain team has even been successful in presenting users with videos that a user might enjoy even if it isn't directly related to what was previously watched.
See Also: Baseball Is Just The Beginning: Expect Facebook To Go After More Sports To Grow Video Segment
Americans Still Prefer TV
Let's break down the math.
According to Fortunelords.com, the total number of people who use YouTube (as of January 2017) was 1.3 billion, which means that each user accounts for just shy of one hour of watching YouTube videos.
While this may seem like a large number it actually confirms that traditional TV isn't dead — far from it. Recode noted in June of 2016 that the average American watches more than four hours of TV a day, based on data from Nielsen. When adding in DVR time, the number is boosted to five hours a day.
Nevertheless, the cord-cutting trend continues to gain momentum by the day as consumers are finding it easier and more cost advantageous to rid their monthly cable package and find content online. Internet and cable providers like Comcast Corporation (NASDAQ: CMCSA) are even embracing (or countering) this trend by making it easier for users to access online content and will launch a default YouTube app on its Xfinity XI.
Update, 4:49 p.m. ET: YouTube's CEO Said The Company Will Launch Youtube TV Service With Live Channels Within Next Few Months
Posted-In: Cristos Goodrow ReCode tvNews Events Tech Media General Best of Benzinga
View Comments and Join the Discussion!