The Hype Surrounding Advanced Micro Device's Ryzen Product Launch
Shares of Advanced Micro Devices, Inc. (NASDAQ: AMD), which had a torrid run after 2006, began to turn the corner in early 2016. The shares are currently at their highest level in a decade, with the latest thrust upwards provided by the impending commercial launch of its Ryzen processors.
Market analyst Ralph Acampora said in a tweet on Monday, "Advanced Micro Devices (AMD) is now at a level not seen since July 2007; use any pull back as a long-term buying opportunity." Is the upside sustainable or will the stock cede the gains raked up by it? The answer to the question depends on how Ryzen 7 fares.
AMD Source: Y Charts
Unwrapping AMD's Newest Chip-On-The-Block
The company announced last Wednesday the global launch of its Ryzen desktop processors. Pre-orders commenced on the same day. The development of Ryzen was in the works for about four years, with the company embarking on developing its Zen processor core four years ago.
Dr. Lisa Su, president and CEO of AMD, said the Ryzen 7 family of processors will release on March 2.
The Ryzen 7 line up consists of three models, namely Ryzen 7 1800x, Ryzen 7 1700x and Ryzen 7 1700. The pricing suggested by the company was $499 for the 1800X, $399 for the 1700X and $329 for 1700. The company also stated that 1800X outperformed a similarly configured 8-core, 16-thread Intel Core i7-6900K in Cinebench R15 multi-threaded and Handbrake-based video transcoding, as well as showing comparable 4K gaming performance.
Related Link: Advanced Micro Devices Establishes New 2017 High As New Ryzen Processors To Ship Next Week
AMD: The First Among The Equals?
AMD's Ryzen begs a comparison with Intel Corporation (NASDAQ: INTC), AMD's traditional rival in the processor space. Intel's competing processor Intel Core i7 was found to be inferior to the multithreaded performance of the R7 1800X, based on Cinebench performance.
Early benchmarks and demos have demonstrated the superiority of the Ryzen chips, and if the real-world performance is keeping in line with the early indications, Intel could face serious competition in gaming CPU. AMD itself offered teasers for its Zen architecture powering the first Ryzen CPUS last year.
Competitive Pricing
In an apparent preemptive move ahead of the Ryzen release, Intel's processor prices saw a drop. Intel's latest Kaby Lake-based i7-7700K has seen its price drop to $299 from $380.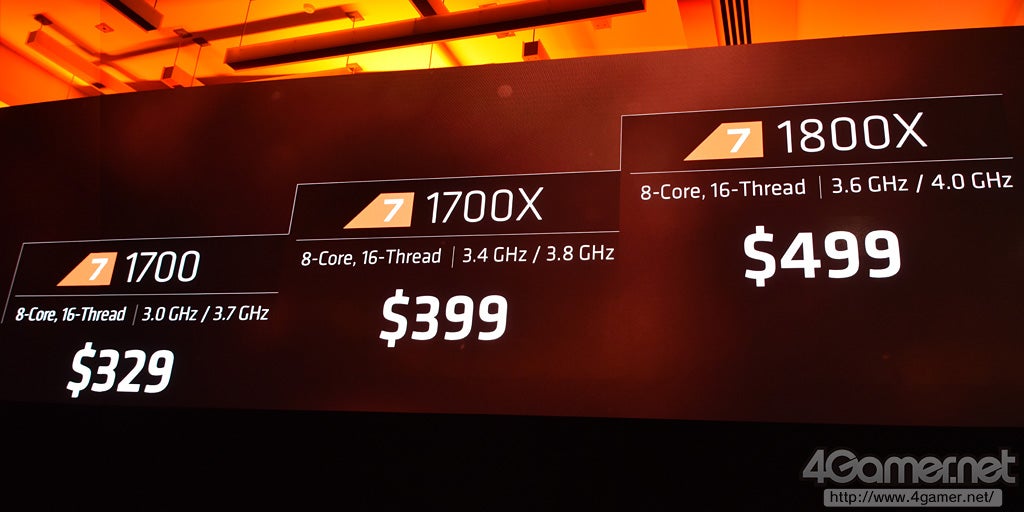 AMD Non-Committal On Ryzen Offtake
When Benzinga contacted AMD on the response to Ryzen based on pre-order statistics, the company has this to say, "We don't typically release any financial-related data mid-quarter, and the # of Ryzen units sold would fall into that category. Not saying we won't provide an update, but the data isn't something we typically provide throughout the quarter."
Showcasing The Future
More details could be gleaned on the Ryzen from two engagements AMD has lined up this week. AMD has scheduled a presentation on the "Future of Graphics & Processor Technologies" during its second annual "Capsaicin Live" events at 10:30 a.m. PT on Tuesday.
AMD is also set to present at the 2017 Game Developers Conference that gets underway on Monday, with the company hosting a presentation at 10:30 p.m. ET on Tuesday.
At last check, AMD shares were rallying 7.65 percent to $16.20.
Image Credit: By Konstantin Lanzet (CPU collection Camera: Canon EOS 400D) [GFDL or CC BY-SA-3.0], via Wikimedia Commons
Posted-In: Ralph AcamporaNews Movers Tech Trading Ideas Best of Benzinga
View Comments and Join the Discussion!