AirBnB Vs. Accor: The Battle For Luxury Rental Market Supremacy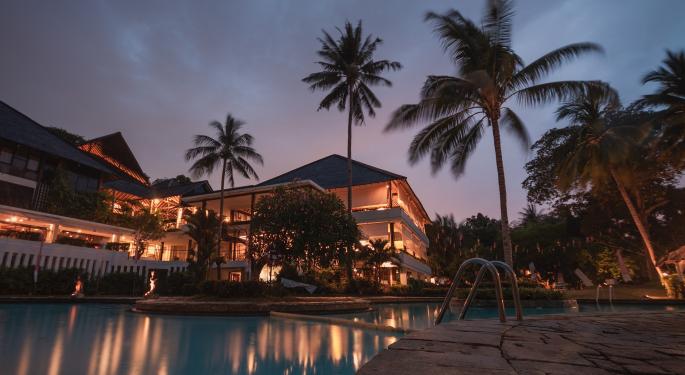 Hospitality giants are showing increased interest in the luxury vacation rental sector.
It is no mystery that AirBnB and Accor SA are growing at an astonishing pace. That's because both companies are constantly on the lookout for expansion opportunities. Recently, the luxury vacation rental sector has attracted their attention, leading to two game-changing acquisitions.
AirBnB
Motivation for AirBnB's $300 million acquisition of Luxury Retreats, a Montreal-based high-end vacation rental company is clear; AirBnB is looking for opportunities to scale. This includes broadening its target market to include higher-paying clientele.
The company does so with the hope that customers willing to pay top dollar for glossy villas will also be willing to pay for AirBnB's luxury tourism service — from private guided tours to truffle tastings.
Additionally, according to a Bloomberg report, the rental giant is also looking to expand into a full-service travel company thanks to over $3 billion in venture capital funding, by offering things like airfare aggregation and itinerary planning.
Although Luxury Retreats uses a slightly different pay structure, by charging a 20 percent commission on rental fees, revenue will closely match AirBnB's current, cumulative model that combines listing and booking fees. Lending weight to optimism regarding the company's profitability in 2017.
AccorHotels
AccorHotels has also jumped on the luxury vacation rental bandwagon. The Paris-based multinational hospitality giant, which owns and operates a variety of hotel franchises, is currently negotiating the acquisition of Travel Keys. Accor's CEO, Sébastian Bazin, is transparent about his reasons for pursuing the luxury rental company. Like AirBnB, Accor's objective is also related to scalability — to ultimately become "the number one luxury private rental player in the world."
Bazin's goal seems reasonable, given the enthusiasm with which Bobby Gibson, CEO of Travel Keys, brings to the acquisition. He shares "the vision of both Sebastien Bazin and the private rental leaders at AccorHotels about the future of our industry." With Travel Keys bringing over 5,000 properties and top-notch attention to hosts and guests, this certainly seems like a promising symbiosis.
Looking Ahead: Possible Buyers And Sellers
These two impending acquisitions foreshadow a pattern in the vacation rental property industry, making many investors and economists ask "who's next?" The key for potential buyers is to identify new companies with scalability potential. CEO Mark Hoplamazian positioned Hyatt Hotels Corporation (NYSE: H) as a potential buyer when he said in a recent interview that they are "looking beyond hotels to serve evolving needs of guests." This mindset was corroborated by an event in 2015 when Hyatt invested $40 million in London-based vacation rental company OneFineStay.
Equally promising as a buyer is Marriott International Inc (NASDAQ: MAR), thanks to its recent acquisition of both Starwood Hotels and Resorts Worldwide, making it the largest hotel company in the world. Many believe that it will continue to grow by expanding into the vacation rental market. Thanks to Expedia Inc (NASDAQ: EXPE)'s acquisition of vacation rental powerhouse, HomeAway, for a staggering $3.9 billion, some experts anticipate other tourism aggregators like Priceline Group Inc (NASDAQ: PCLN) to follow suit.
There are also some potential sellers emerging in the hospitality scene like the Portland-based rental company, Vacasa, which secured $35 million in Series A funding from Level Equity in New York. According to its website, "Vacasa offers just the right retreat for any guest" thanks to a diverse selection of accommodation styles. Relatedly, San Francisco-based Tripping.com is emerging as one of the largest vacation rental search engines, providing users with access to a monumental selection of places to stay.
Although these companies show promise, luxury vacation rentals seem to be the next hot niche, based on the recent AirBnB and AccorHotel acquisitions. Luckily for interested investors, there is still an untapped opportunity in this space — a company with the potential to scale far beyond either Luxury Retreats or Travel Keys.
Another Possible, Luxury, Target? Villaway Enters Arena
Villaway, a spinoff from Luxury Rental Group, stands out from competitors because of its ability to scale exponentially. Unlike other agencies like Luxury Retreats, Villaway aggregates properties at the property manager level rather than individual home. Whereas it took Luxury Retreats 20 years to build a catalogue of 2,800 villas, it took Villaway only 18 months to secure twice that number of properties. Villaway expects its inventory to reach 20,000 within the 18–24 months — a true luxury vacation rental marketplace.
Related Link: AirBnB On Steroids: New Startup Is Changing Luxury Travel
However, Villaway goes beyond the quantitative to differentiate itself by offering properties in more than 100 destinations worldwide and a superior level of guest amenities through its former Les Clef d'Or developed and managed exclusive concierge service. Villaway may very well be the next target of key players in the travel and leisure space, as it could allow many other interested suitors keys to a VIP entrance into this highly lucrative expanding market.
AirBnB and Accor have realized that hospitality giants need to innovate and scale to maintain prominence in a highly-competitive industry. By expanding their current business models to include high-end properties, they encapsulate the market to ensure they remain a staple in the industry for years to come.
View Comments and Join the Discussion!
Posted-In: M&A News Rumors Crowdsourcing Movers Tech Trading Ideas General Best of Benzinga