Boeing, Pfizer And Others Band Together To Ask Congress For More Taxes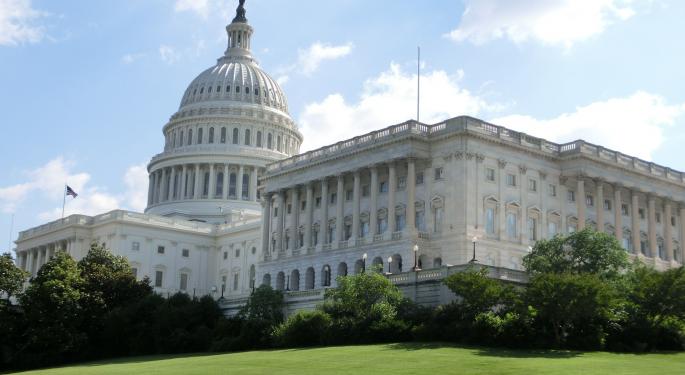 President Donald Trump has found able allies among the corporate sector for his Border Adjustment Tax.
Some blue chip corporations, thriving primarily on domestic business and exports, have banded themselves under the "American Made Coalition" and written to Congress to accelerate the implementation of transformative changes in the tax code.
A Missive To Congress
In a letter addressed to Speaker of the House Paul Ryan, Democratic Leader of the House Nancy Pelosi, Majority Leader of the Senate Mitch McConnell and Democratic Leader of the Senate Chuck Schumer, the coalition of 16 companies sent out an impassioned plea to roll back federal policies, mainly on the tax front, that restrain the growth of the U.S. economy.
The coalition includes Merck & Co., Inc. (NYSE: MRK), Pfizer Inc. (NYSE: PFE), Boeing Co (NYSE: BA), Caterpillar Inc. (NYSE: CAT), General Electric Company (NYSE: GE), Dow Chemical Co (NYSE: DOW) and United Technologies Corporation (NYSE: UTX).
Related Link: Border Tax Polarizes U.S Companies As Exporters Take Side With Trump Team
Major Aspects Discussed In Letter To Congress:
Recommendation to enact comprehensive pro-growth tax reform.
Highlighted the fact that the business tax rate of the U.S. is the highest among the developed countries.
Penalizing nature of the U.S. tax code, which penalizes exporters and at the same time favor international competitors.
Dwelled on the plan proposed by Ryan and the Ways & Means Committee Chairman Kevin Brady to dramatically lower rates for businesses of all sizes, allow intermediate expensing of all capital expenditures and incorporate a more competitive territorial approach to taxing businesses; the companies felt these changes would free up capital for companies to invest in the United States, help stop corporate inversions and acquisitions of U.S. companies and protecting American jobs from unfair competition.
View that the provision that ensures goods and services produced abroad be taxed at the same rate as those produced in the United States would end the unfair advantage of foreign-based companies.
Height Securities Sees Lower Chances Of Senate Clearance
Commenting on the letter, Height Securities said Boeing, Merck, Pfizer and Caterpillar are among the principal champions of this effort. The firm said these companies would continue their efforts in Washington in the coming weeks to educate and garner support for the idea on Capitol Hill.
Height Securities believes the odds of the proposal passing the House is 75 percent, while at the Senate, the odds of the idea attracting the votes required to be signed into law is a more modest 30 percent.
Posted-In: News Education Emerging Markets Commodities Politics Management Global Markets Best of Benzinga
View Comments and Join the Discussion!