AP Publishes Memo Stating National Guard Could Be Mobilized In Illegal Immigrant Roundup; White House Denies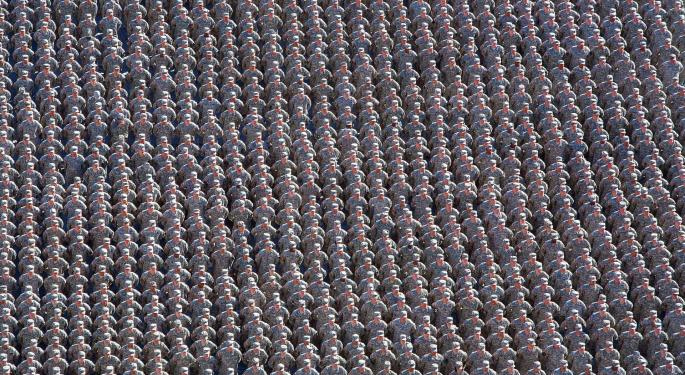 One day after the nationwide "Day Without Immigrants" campaign — a pro-immigration strike prompting shutdown of businesses across the United States — rumors circulated of escalated federal efforts to deport policy violators.
According to a draft memo acquired by The Associated Press, the Trump administration is considering mobilizing up to 100,000 members of the U.S. National Guard to round up undocumented immigrants in 11 targeted states.
The document, allegedly authored by Homeland Security Secretary John Kelly, was dated Jan. 25 and encourages state governors to authorize National Guard troops "or qualified members of a state militia or state defense force under the command of the Governor, to perform the functions of an immigration officers in relation to the investigation, apprehension, and detention of aliens." The move would be unprecedented, as the National Guard typically engages in selective mobilization for civilian disturbances or natural disasers.
Related Link: The Importance Of Immigrants On Wall Street, In Silicon Valley And For The United States
White House Press Secretary Sean Spicer immediately denied the memo's validity.
This is not true. DHS also confirms it is 100% false https://t.co/MFIJci7XaU

— Sean Spicer (@PressSec) February 17, 2017
"I don't know what could potentially be out there, but I know that there is no effort to do what is potentially suggested," he told reporters aboard Air Force One. He added that "there is no effort at all to round up, to utilize the National Guard to round up illegal immigrants." However, the AP claimed that staffers in the Department of Homeland Security confirmed the proposal's consideration, and a reporter for the New York Daily News reported whispers of civil disobedience among National Guard members.
I have already been contacted by several current members of the National Guard who said they would be courtmarshaled before obeying this. https://t.co/3s9IGg6igp

— Shaun King (@ShaunKing) February 17, 2017
According to a November report by the Pew Research Center, mass deportations could affect an estimated 11.1 million illegal immigrants and about 5 percent of the U.S. workforce.
View Comments and Join the Discussion!
Posted-In: AP department of homeland securityNews Politics Topics Travel Media General Best of Benzinga