Morocco And The U.S.: Top African Businessman Talks About Bilateral Relationship Under Trump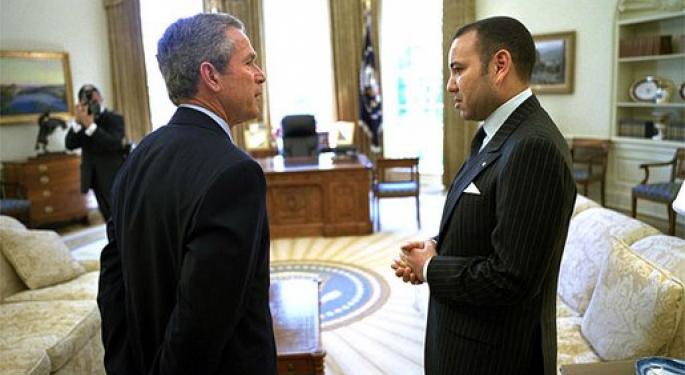 Benzinga recently had the chance to chat with one of Morocco's top businessmen, Saâd Bendidi, who walked us through the country's return to the African Union after more than three decades of absence, discussing some of the opportunities ahead for international economic expansion.
As the conversation progressed, Morocco's relationship with the United States under a Donald Trump administration arose.
Trump And King Mohammed VI
While Bendidi explained he is not deeply involved in politics, his experience allowed him to introduce the topic.
"If we look at the last 60 years, the relationship between Morocco and the U.S. has consistently been on an outstanding level. [We've had] very good cooperation, as the U.S. considered Morocco a reliable and stable country, not only for itself, but as a country of influence in the region — not only on [the] economic side," he said.
Related Link: Top Moroccan Businessman Talks Return To African Union, Opportunities For Economic Expansion
"Maybe the trade relations are not so big compared to the ones that Morocco has with the European Union. But still, the cooperation, no matter [whether] the administration is Republican or Democrat, has always been great," he added.
Going forward, he voiced, this cooperative relationship should continue for several reasons. Among them, the businessman highlighted the United States' "concern for stability, [and its interest in having] strong allies to fight terrorism," and the "access to large markets."
These factors should "conduct the new administration to have a positive outlook, even more positive than during the Obama presidency, when considering Morocco," he concluded. "So, I feel like that the relationship could even strengthen in the near future because of the tough priorities that have been set by the new administration, and in which Morocco could play a very positive role."
Image Credit: King Mohammed VI with former U.S. President George Bush in 2002, by White House photo by Eric Draper - whitehouse.gov, Public Domain, https://commons.wikimedia.org/w/index.php?curid=107415
View Comments and Join the Discussion!
Posted-In: News Emerging Markets Emerging Market ETFs Politics Topics Global Markets Interview Best of Benzinga