Here's The Cliff Notes On The Latest Chapter In Euro Disney's Controversial Story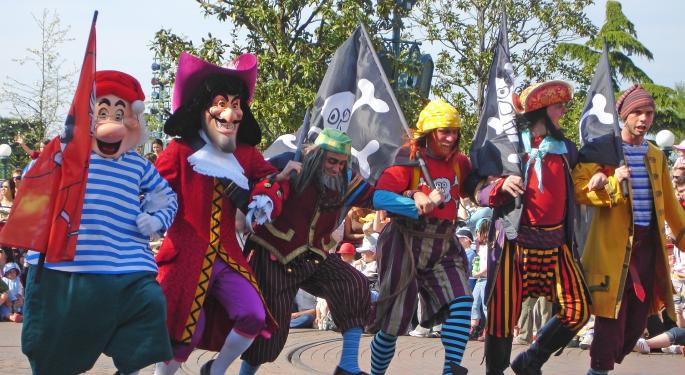 Euro Disney SCA (EPA: EDL) (OTC: EUDSF) popped 66.7 percent Friday on news that the Walt Disney Co (NYSE: DIS) would acquire 90 percent of EDL shares held by Saudi Prince Al-Waleed Bin Talal's Kingdom Holding Company (TADAWUL: 4280). The transaction is expected take place Wednesday through an after-market block trade.
Details Of The Anticipated Transaction
Disney subsidiary EDL Holdings LLC, which has long held Disney's equity interest in the European franchise, will increase its stake from 76.7 percent to 85.7 percent. Kingdom Holding subsidiary Kingdom 5-KR-11 Ltd. will decrease its hold from 10 percent to 1 percent.
The deal involves a $2.12/share payment in units of Disney's common stock based on Tuesday's closing value. Loop Capital Markets explained that, if Disney closes at $109.26 as it did on Friday, the company will pay 1.37 million shares.
Disney will also extend a tender offer for the outstanding 9.3 percent of Euro Disney shares at $2.12 a piece. After the offer, if Euro Disney owns more than 95 percent of shares, Disney will attempt to remove EDL from Euronext.
What Will Happen Next?
Regardless of the company's success, Loop Capital expects Disney to support an equity recap of $1.6 billion to improve the Paris park and repay debts. Disney will seek a recovery of both financial and reputational value.
Since its inception in 1992, the European park has been a major attraction — mostly of controversy.
It began with debate of real estate location, continued with construction of guest rooms far in excess of demand and peaked with critically low attendance figures.
The company's fortune turned in the 1990s after it slashed hotel prices and offered new rides. Euro-Disney then went on a seven-year profit streak, but it has again fallen upon hard times as attendance dwindles with terror threats.
A Buy Rating
Loop Capital foresees another turnaround, though. Based on mid- to high-teens earnings growth estimates for 2018, the firm maintains a Buy rating on Disney with a price target of $118.
Risks include high relation to consumer psychology, a potential oil spike and terrorist activity. The company's media and entertainment brands see additional risks in shifting advertising trends, piracy, union strikes, technological disruptions and the consolidation of cable and satellite distributors.
Posted-In: News Emerging Markets Eurozone Asset Sales Travel Global Markets Trading Ideas Best of Benzinga
View Comments and Join the Discussion!