As Bacon Reserves Hit 50-Year Low, Expert Says Not To Worry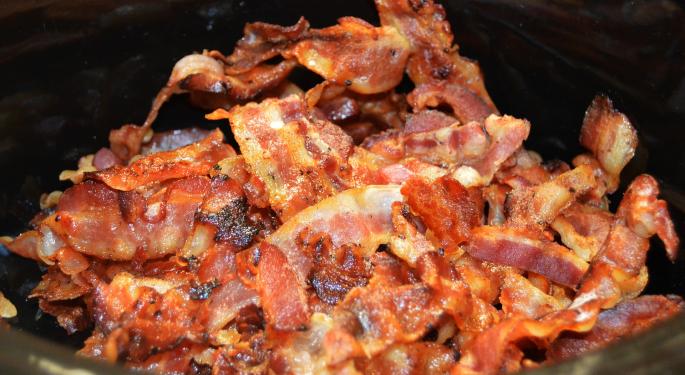 Over the last few years, bacon has expanded its standard marriage with eggs to include unusual partners. Bacon ice cream and bacon donuts have increased in popularity — and reserves have taken a hit.
Not The Bacon!
The U.S. Department of Agriculture reported that frozen pork belly inventory dropped below 20 million pounds in December to a 50-year low. Just three years ago, U.S. stock weighed as much as 90 million pounds.
No Worries; Sizzlin' Won't Stop
But Angie Setzer, vice president of grain at Citizens LLC, said the dwindling store might not actually be that big of a deal.
"The bacon shortage is a bit of a misnomer unfortunately (fortunately?)," Setzer wrote to Benzinga. "While inventories of frozen pork bellies are at a low level, the supply of available meat [and] hogs coming to market remains at a historically high level."
Some Squeals Persist
In spite of this fact, Ohio Pork Council president Rick Deaton didn't offer much optimism.
"Today's pig farmers are setting historic records by producing more pigs than ever," Deaton said. "Yet our reserves are still depleting."
The OPC reported that, when it comes to frozen pork belly, supply can't keep up with demand. The council attributed the shortage, in part, to increased foreign demand, as hog farmers export about 26 percent of their productions.
The Price Of Pork
Still, Setzer said market conditions for pork will bolster supply.
"The higher prices for hogs we've continued to see will help to encourage production increases across the nation," she said.
Over the last few months, pork belly prices have shot up 30 percent to about $1.36 per pound.
The final product hits retail shelves at about $5.10, which is 11 percent less expensive than it was last year.
Certain retail and production companies are positioned to rise or fall with bacon and its price shifts. Those who stand to lose from a shriveling supply are Oscar Mayer owner Kraft Heinz Co (NASDAQ: KHC), Butterball owner Seaboard Corp (NYSE: SEB), Jennie-O owner Hormel Foods Corp (NYSE: HRL), Great Value owner Wal-Mart Stores Inc (NYSE: WMT) and Costco Wholesale Corporation (NASDAQ: COST), whose exclusive brand, Kirkland Signature, was voted best bacon in 2013.
View Comments and Join the Discussion!
Posted-In: Angie Setzer baconNews Commodities Markets Trading Ideas Interview General Best of Benzinga