All Presidents Reach Majority Disapproval At Some Point, But Trump's 8-Day Record Is Unprecedented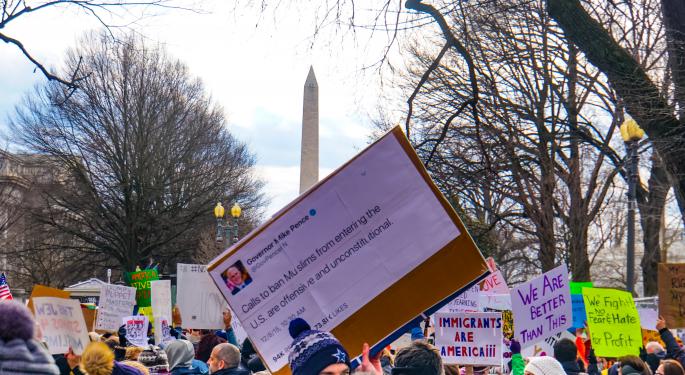 Trump trashing has reached a crescendo, but is it the climax of his presidency? The development is quite unsurprising given the unpopular executive orders President Donald Trump has signed and the presidential memorandums put forward and his unprecedented social media engagement during his first week and a half in office. Shortly after his first week was concluded, it culminated in the president earning the dubious distinction of being the fastest to reach majority disapproval rating.
The Elevation
Trump took over from former President Barack Obama on January 20, 2017, following a surprising victory over Democratic candidate Hillary Clinton in an election that was hard fought. Trump fought the election on the protectionist plank, promising voters preservation of domestic jobs and his pledge to "Make America Great Again."
Unpopular Executive Orders
Just three days after assuming office, Trump signed a presidential memorandum pulling the United States out of the Trans-Pacific Partnership on January 23. Two days later came twin orders, one authorizing the construction of a wall along the Mexican border and another speeding the deportation of undocumented immigrants.
What took the cake, however, was an Executive Order Trump signed last Friday imposing a freeze on refugee admissions from Syria, a 120-day ban on refugee admission from other locations and a 90-day ban on travel from seven Muslim-majority nations, including Iran, Iraq, Libya, Somalia, Syrian and Yemen.
Commotion and chaos ensued, as in-bound travelers from the seven banned nations were left stranded. Protestors took to the streets to voice their opinion against the order.
Record Run-Up To Disapproval
The result? Trump seems to be having the shortest honeymoon ever, with his disapproval rating rising above 50 percent in just eight days, according to data compiled by polling organization Gallup. At the time he assumed office, 45 percent approved of him, 45 percent disapproved and 10 percent were undecided.
In comparison, Trump's predecessor former President Barack Obama's disapproval rating crossed the 50 percent threshold in 936 days into his presidency, as people were unnerved by the prospects of a federal government shutdown. Former Democratic President Bill Clinton took 573 days to become unpopular. Former President ronald Reagan took 727 days, while both former Presidents George Bush took over 1,000 days to hit majority disapproval (G.W. Bush at 1,205, G. H. W. Bush at 1,336).
Is Trump listening? If he doesn't heed to the pulse of the people, he may have to brace for a turbulent time at office, and his dream of leading the country for a second term would go up in flames.
Image Credit: By Ted Eytan from Washington, DC, USA - 2017.01.29 No Muslim Ban Protest, Washington, DC USA 00270, CC BY-SA 2.0, via Wikimedia Commons
Posted-In: approval rating Donald TrumpNews Politics Events Media Trading Ideas General Best of Benzinga
View Comments and Join the Discussion!