TDA Chief Strategist Shares Top Trades After Dow 20K: Apple, Chevron, Microsoft And More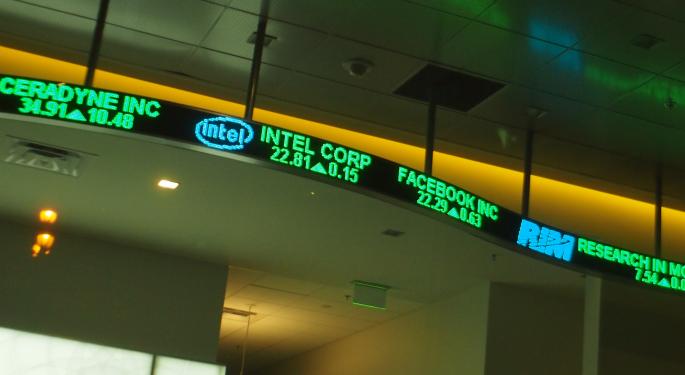 Last week, the Dow Jones Industrial Average 2 Minute (DJI) crossed the 20,000 psychological barrier, hitting a high of 20,125.58 points. Following this event, TD Ameritrade Holding Corp. (NASDAQ: AMTD)'s chief market strategist, JJ Kinahan, shared a look into what retail investors did on that day, how they traded this all-time high.
Top Sells
"It's interesting, on the day we went over 20,000, our clients were net sellers that day," he commenced, pointing out three big net sold names: Apple Inc. (NASDAQ: AAPL), Bank of America Corp (NYSE: BAC) and Chevron Corporation (NYSE: CVX). While this came as no surprise as all three stocks were among TDA's five most sold stocks of 2016, what was interesting was that Facebook Inc (NASDAQ: FB) and Amazon.com, Inc. (NASDAQ: AMZN) were also sold after the Dow crossed 20,000.
"I think what it is showing is, these are stocks that our clients have been accumulating for a while, but they were net sellers," Kinahan declared. "Where they kind of roll over to is Microsoft Corporation (NASDAQ: MSFT), Citigroup Inc (NYSE: C) and Alphabet Inc (NASDAQ: GOOG) (NASDAQ: GOOGL)— They rolled over into similar products."
Why Those Stocks
When asked why TDA's clients had picked these stocks, the strategist responded, "On the sell side, it's more obvious to me because I look at the stocks that they have been accumulating; those stocks are right there. On the buy side, it's a little bit harder to get your arms around."
"Alphabet [was among the most bought]; I think part of that being all the news around what's going on in the retail space and how they have done well as compared to the traditional brick-and-mortar stocks. So, that one makes a little bit of sense to me," he continued.
"Citigroup, I think is just— our clients have ridden Bank America for quite a while and so -I think- it was people saying, 'OK, we have gotten to this point, still think financials are strong.' And, don't forget, Bank America is still a very widely held stock by our clients, but I think a lot of them are taking profits and saying, 'Where can I look still in the same sector for a stock that may have some potential upside other than banking?'"
Finally, Kinahan pointed out, Microsoft just had very solid earnings. "Microsoft is kind of funny to me; I still think sometimes people hear Microsoft and it is like, 'Oh, you know, it's a tech company.' And, they are, no question about it, but they're now in the same category in people's eyes as General Electric Company (NYSE: GE), Exxon Mobil Corporation (NYSE: XOM), etc. They are a solid, dividend paying, hold for a longer-term stock."
Image Credit: By Francisco Gonzalez (Tickers) [CC BY 2.0], via Wikimedia Commons
View Comments and Join the Discussion!
Posted-In: News Broad U.S. Equity ETFs Events Markets Movers Tech Trading Ideas Interview Best of Benzinga