Does Awards Season Impact Earnings In The Entertainment Space?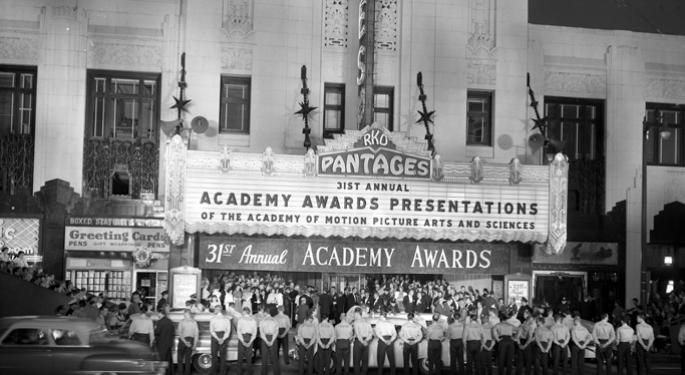 It's that time of year again. The time to cue the music and usher in awards season.
On January 8, the film industry checked off the Golden Globes, and the next few weeks boast a red-carpet lineup including the televised Screen Actors' Guild (SAG) Awards and the British Academy of Film and Television Arts (BAFTA) Awards. Per usual, the season will be capped with the esteemed Academy Awards on February 26.
Despite the popular hype generated around the ceremonies, the enthusiasm doesn't necessarily translate financially.
Here are how film stocks have performed during recent awards seasons:
Production And Distribution Studios
Lions Gate Entertainment Corp. (USA) (NYSE: LGF.A) — the company credited with Golden Globe winner "La La Land" — saw value depreciation during the 2015 and 2016 awards seasons, but its shares had rocketed in previous years.
Twenty-First Century Fox Inc (NASDAQ: FOXA) experienced a similar trend. Its "Hidden Figures" garnered Golden Globe nominations and anticipates similar nods for the Academy Awards.
Viacom, Inc. (NASDAQ: VIA), whose subsidiaries brought "Fences" and "Silence," opened 1.8 percent higher after the Golden Globes aired this year. However, past years have seen no firm trends through to the Academy Awards.
Despite leading the fantasy field with "Suicide Squad" and "Fantastic Beasts and Where to Find Them," Time Warner Inc (NYSE: TWX) fell 1.2 percent after the Golden Globes. Share values have generally made gains in the early year with the exception of 2015 and 2016, which valleyed out in January before rallying in February.
Walt Disney Co (NYSE: DIS) shares generally improved between the Golden Globes and Academy Awards, with 2015 seeing the sharpest jump of 9.1 percent.
In the last year, Disney and its subsidiaries cashed in on numerous films spanning the drama-thriller "The Finest Hours," the blockbuster hit "Rogue One: A Star Wars Story," the animated "Moana" and the recreation of "The Jungle Book."
Netflix, Inc. (NASDAQ: NFLX), which recently emerged on the film production scene, saw no market activity around this year's first awards show, but the 2016 season experienced depreciated values throughout. Although series-heavy in its content, Netflix is looking to score an Oscar nod for its original movies and documentaries.
Amazon.com, Inc. (NASDAQ: AMZN) will stage its awards-show debut this year after having a hand in "Manchester By The Sea" distribution.
Movie Theaters
The early months of the year are not only busy for film companies but also for theaters, which see a surge of top-rated — but not necessarily highest-grossing — films timed for awards-season release.
Imax Corporation (USA) (NYSE: IMAX) saw general awards-season gains each year with the exception of 2014. Last year, shares plummeted between December and mid-January, but the trends turned and yielded a relative chart peak during the week of the Oscars.
AMC Entertainment Holdings Inc (NYSE: AMC), which went public early 2014, has seen annual peaks between the first week of January and the second week of March. These runs were followed by general bouts of depreciation or stagnation.
Prior to being acquired by AMC in December, Carmike Cinemas, Inc. (NASDAQ: CKEC) had also seen positive runs leading up to the Oscars, with the week following the awards in 2016 spiking 35 percent.
Apart from an early-year drop in 2014, Regal Entertainment Group (NYSE: RGC) saw awards-season spikes every year, including rises of 21.1 percent in 2016 and 14.7 percent in 2015.
The trend for Cinemark Holdings, Inc. (NYSE: CNK) is fairly nascent, with significant season peaks emerging in the last two years. Values rose 15.3 percent over the first two months of 2015 and, after a brief drop, rose 14.1 percent in 2016.
Reading International, Inc. (NASDAQ: RDI) experienced no true trends in the early months of the year, except in 2016, which saw a 14-percent rise between the Golden Globes and Academy Awards.
Image Credit: By See above - See above, Public Domain, via Wikimedia Commons
Posted-In: awards season BAFTANews Previews Events Media Trading Ideas General Best of Benzinga
View Comments and Join the Discussion!