15 Things We'll Miss About The Obama Administration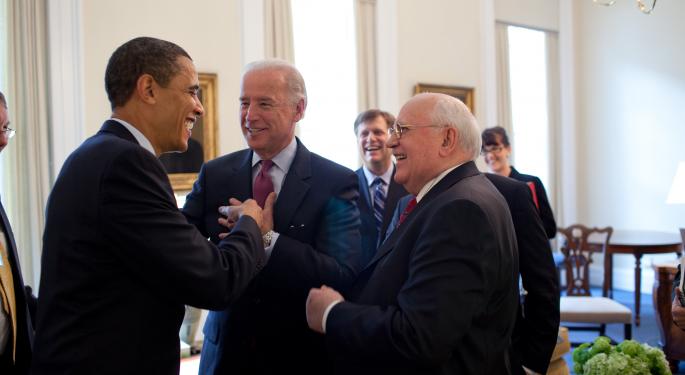 Barack Obama, the 44th president of the United States, will hand over the reins to Donald Trump on Friday.
15 Things We'll Miss
Though one may not entirely agree with all the policies of Obama, here are the few things we'll miss about the Obama administration:
Obama entered office during the financial crisis. Obama prevented the U.S. economy falling from a great recession into another great depression through a stimulus bill.
Obama's conduct of international affairs has been lauded, especially his landmark deals with Iran and Cuba. In October 2009, Obama won the Nobel Peace Prize for strengthening international diplomacy and cooperation between peoples.
Obama's rapport with children has won him hearts all over the world.
In March 2010, the Affordable Care Act was launched to stem rising healthcare costs and the policy saw 95 percent of the population on health insurance by 2014.
Obama brought in the Dodd-Frank Wall Street Reform Act to improve regulation in eight areas that led to the financial crisis. He is also credited with "Volcker Rule" that banned banks from risking losses with their depositors' money.
In December 2010, Obama introduced additional stimulus via $858 billion tax cuts.
The killing of Osama bin Laden on May 1, 2011.
A CNBC report shows the nation's job market has put nearly 6 million Americans back to work since Obama took office. Economist Mohamed El-Erian told Benzinga that "the 156,000 new jobs in December caps a strong period of employment creation under President Obama."
Obama has been instrumental in finalizing the International Climate Agreement in December 2015.
Obama's willingness to tackle racial issues in America. Trump has proposed ban on all Muslims.
Obama is one of the most diplomatic presidents of the nation. Obama's even demeanor when discussing a policy fetched him more admirers.
Obama preferred continuation of Federal Reserve Policy by naming Vice-Chair Janet Yellen to replace Ben Bernanke. Yellen's monetary policy resulted in the low interest rates that revived housing market along with steady business expansion.
One might also miss Barack and Michelle Obama's hilarious late night interviews, reflecting how fun the two of them are outside of politics.
Note that Obama has never been accused of sexually assaulting anyone.
Obama is a cool customer. One will miss Obama's sense of humor and quippy comebacks. At the end of his final White House correspondents' dinner, Obama said "Obama out" and literally dropped the mic.


Image Credit: By The Official White House Photostream / Pete Souza (P032009PS-0437) [Public domain], via Wikimedia Commons
Posted-In: Barack Obama Ben Bernanke Dodd-Frank Dodd-Frank Wall Street Reform Act Donald Trump IslamPolitics General Best of Benzinga
View Comments and Join the Discussion!