Trump Unafraid Of NAFTA Or Violating Tariffs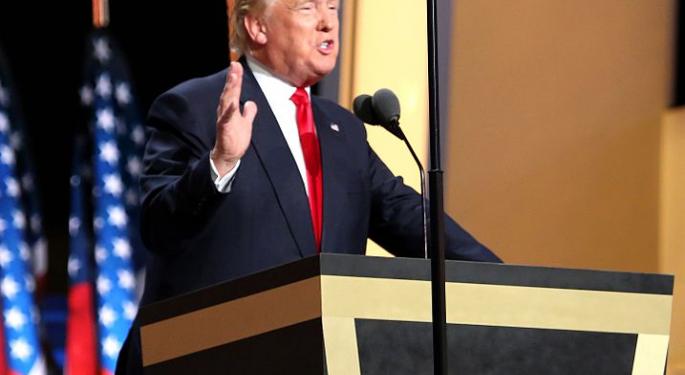 President-elect Donald Trump threatened to slap a tariff on General Motors Company (NYSE: GM)'s cars that are made in Mexico but sold domestically.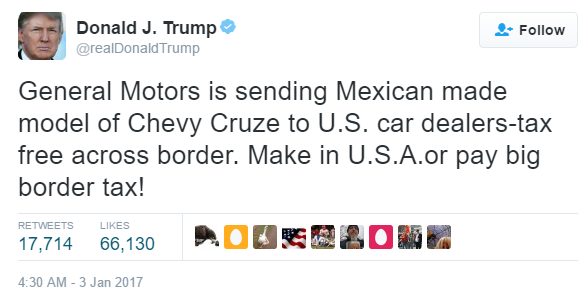 Trump is likely aware that this violates NAFTA agreements, yet he is unlikely to care nor be deterred from implementing his Made-in-America policy.
Bloomberg cited trade experts who said that targeting a single company with a tariff is barred under the NAFTA trade agreement, yet at the same time, the president also has plenty of options at his or her disposal to impose penalties on imports — even if courts strike them as being unlawful.
On the other hand, Trump holds the power to completely abandon NAFTA altogether, although he has said he is very much open to renegotiating the treaty.
Bloomberg continued that Trump's threat of imposing a tariff could actually yield his intended results. Doug Holtz-Eakin, a former director of the Congressional Budget Office and is now the president of the American Action Forum in Washington told Bloomberg that Trump's attack on General Motors is merely the "opening bid in the negotiations."
"A lot of this is about setting the agenda and getting people to talk about what he wants to talk about," Holtz-Eakin said. "It's not something that in the end generates great policy."
Image Credit: By Ali Shaker/VOA (http://m.voanews.com/a/3430146.html) [Public domain], via Wikimedia Commons
View Comments and Join the Discussion!
Posted-In: News Emerging Markets Politics Legal Global Markets Media General Best of Benzinga