Bloomberg: Donald Trump Deserves Credit For Japan's Improving Economic Outlook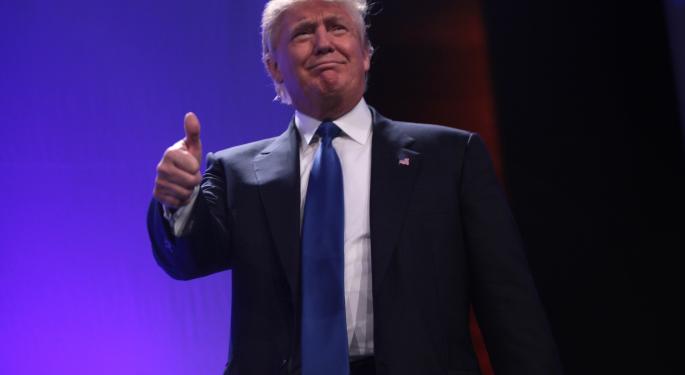 The Bank of Japan boosted its growth forecast for 2017 and President-elect Donald Trump deserves much of the credit, at least according to Bloomberg's editorial board.
The Bank of Japan said earlier this week that it now expects its real gross domestic product to rise 1.5 percent in the next fiscal year (beginning April 1) as opposed to a prior forecast of 1.2 percent. Nominal growth is now expected to rise 2.5 percent, up from a prior estimate of 2.2 percent.
What Did Trump Do?
Bloomberg noted that the main reason attributed to the Bank of Japan's upwardly revised forecast is the decline in its national currency, the yen. The yen has been falling due to the strengthening of the U.S. dollar, which is gaining due to the prospect of "Trumpian tax cuts," infrastructure spending and other policies Trump is expected to implement.
"The link from speculation over Trump's budgets to the outlook for Japan is a timely reminder of the limits of purely domestic economic policy," Bloomberg noted. "Economies are connected in subtle and sometimes unpredictable ways through global markets for goods and capital. That's why a possible side-effect of expanding domestic demand in the U.S. could be a reduction in exporters' competitiveness from a stronger currency."
Checking in on Japanese Yen ETFs:
Proshares Trust II (NYSE: YCL) last traded at $54.65.
Guggenheim CurrencyShares Japanese (NYSE: FXY) were up 0.15 percent at $81.94.
Proshares Trust II (NYSE: YCS) were down 0.96 percent at $80.67.
Image Credit: By Gage Skidmore from Peoria, AZ, United States of America (Donald Trump) [CC BY-SA 2.0], via Wikimedia Commons
View Comments and Join the Discussion!
Posted-In: News Emerging Markets Emerging Market ETFs Currency ETFs Politics Forex Global Markets Best of Benzinga