International Law Expert On Support For Marijuana Legalization: 'Common Sense Is Prevailing'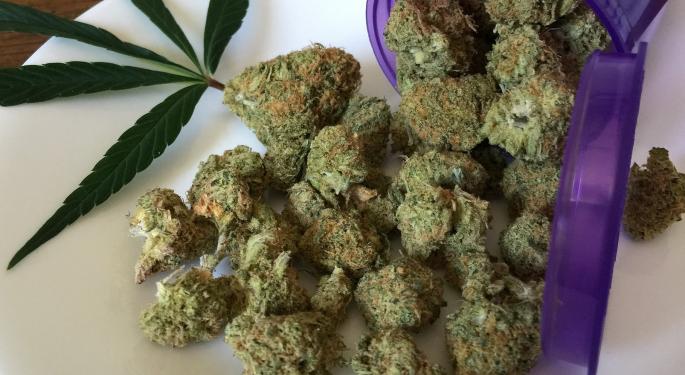 Last Tuesday, the New York State Society of Certified Public Accountants (NYSSCPA) and the Foundation for Accounting Education (FAE) held their 2016 Marijuana Symposium: Business, Tax and Legal Implications.
Following the event, Benzinga had a conversation with one of the keynote speakers, Zameer Qureshi, a Legal Consultant to The Acta Group EU, Ltd, an affiliate of Bergeson & Campbell, P.C., which focuses on marketing chemicals, biocides and products of industrial biotechnology, nanotechnology and synthetic biology.
Looking Ahead
Medical marijuana is now legal in 28 U.S. states and Washington D.C. Talking about the potential for decriminalization and legalization in other states, Qureshi explained that decriminalization measures are in place in several states.
As an example, he cited the case of Maryland, where possession of less than 10 grams of cannabis is penalized with a civil citation, which is "essentially the equivalent of a parking ticket."
"That is drastically different from the law in D.C.," he explained. "Now, D.C. is somewhat unique because of its political significance and the involvement of Congress. And, although the legalized cannabis use and possession up to 2 ounces, they are unable to open shops. So, sale and purchase are still restricted, but there is a distinction."
"In terms of future efforts for legalization, decriminalization or active regulation of marijuana, the Trump administration's approach is going to critical," he supplemented. "Personally, I do not foresee a backtracking effort in states where measures are in place, but how the climate evolves remains to be seen."
Surging Support
Benzinga moved on to ask about the increasing support for legalization and cannabis in general.
"To put it very bluntly, I think that common sense is prevailing," he commented. "I think that, historically, we got regulation of marijuana wrong. I think, worst case, it should have been regulated alongside tobacco and alcohol; and, best case, it should have been acknowledged many, many years ago for its therapeutic and medicinal benefits."
"So, I think more and more states are starting to acknowledge that this stuff isn't as bas as we initially thought it was, that it has immense medicinal benefits, and that we cannot stick to traditional ideology when issues of public health, widespread use and social cost come in," he continued. "We need to consider these issues."
The Federal Level
So, if support for legalization and decriminalization is higher than ever, why is legislation on the federal level so challenging? – Benzinga questioned.
For this query, Qureshi provided a dual answer. Legalization is so challenging on a federal level because it is:
A) "Very difficult to break away from traditional ideologies."
B) "You still have large segments of the U.S. [...] that have not yet totally appreciated the value that, in particular, medicinal cannabis can offer."
Also quite recently, Benzinga asked Alan Brochstein, founding partner at New Cannabis Ventures and founder at 420 Investor, about plays in the marijuana industry against such an uncertain backdrop. The expert mentioned a few Canadian Licensed Producers, including AURORA CANNABIS IN COM NPV (OTC: ACBFF), APHRIA INC NPV (OTC: APHQF), METTRUM HEALTH COR COM NPV (OTC: MQTRF), ORGANIGRAM HLDGS I COM NPV (OTC: OGRMF), SUPREME PHARMACEUT COM NPV (OTC: SPRWF) and CANOPY GROWTH CORP COM NPV (OTC: TWMJF), as well as "the only" biotech stock in the space, GW Pharmaceuticals PLC- ADR (NASDAQ: GWPH).
View Comments and Join the Discussion!
Posted-In: Donald TrumpCannabis Politics Topics Crowdsourcing Top Stories Interview General Best of Benzinga