Pre-Retirees, Pay Attention To Social Security Reform Act H.R. 6489
With the Republicans in control of Capitol Hill, the outlook for Social Security in its current iteration is uncertain as many party members argue for sweeping reforms to Social Security to reduce government spending.
Add to that the unreliability of President-elect Donald Trump's rhetoric and the most recent bill to cut Social Security benefits, many are likely wondering what retirement benefits will soon look like.
Is It Welfare Or Entitlement?
Whether you view Social Security as welfare or entitlement does not matter; drastic changes in the program will have lasting ramifications.
As explained by Investopedia, "Social Security has been a promise to Americans since it was signed into law in 1936 […] However, it is an entitlement, not welfare. Welfare is financial support given to those in need. Social Security benefits are earned through years of paying taxes into the system."
Paying into the program is supposed to guarantee receipt of the benefits further down the road, and thus receiving those benefits relies upon the system's existence at that point in history as well.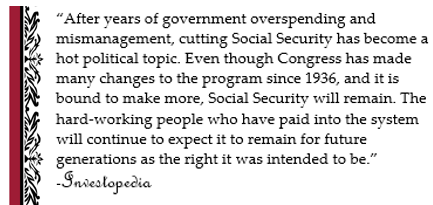 So, Why The Concern?
On the election trail, Trump made promises to not cut Social Security or Medicare. At the GOP debate in March, Trump stated, "I will do everything within my power not to touch Social Security, to leave it the way it is; to make this country rich again […] It's my absolute intention to leave Social Security the way it is."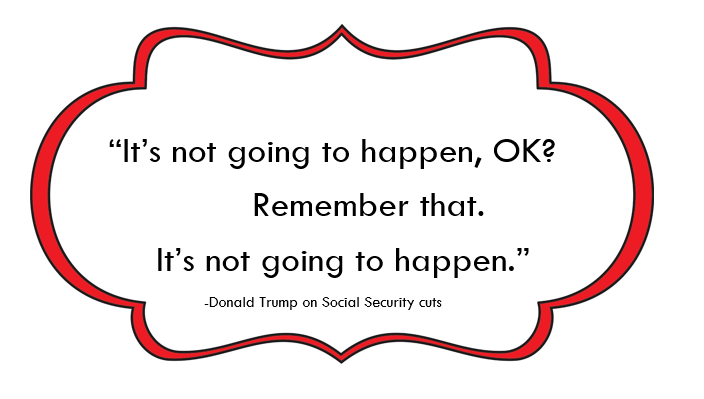 In an April rally, Trump stated, "You've been paying in it [Social Security] for a long time and a lot of these guys want it to be knocked to hell. It's not going to happen, OK? Remember that. It's not going to happen."
A shadow of doubt has arisen, however, as Trump was quoted as saying, "From a moral standpoint I believe in it [entitlement cuts] […] But you also have to get elected. And there's no way a Republican is going to beat a Democrat when the Republican is saying, 'We're going to cut your Social Security' and the Democrat is saying, 'We're going to keep it and give you more.'"
Just weeks after Election Day, however, Congress Republicans have pushed a plan that would drastically change Social Security. As explained by Huffington Post, "The bill would make the program less of a universal earned benefit and more of a means-tested safety net that aims only to provide basic support to the poorest retirees and disabled workers." In other words, effectively shifting the program away from entitlement toward welfare.
Click here to read the bill in its entirety and here to read Chief Actuary Stephen C. Goss's response to the bill.
The Nuts And Bolts
New York Magazine highlighted the bill's proposition as follows: "It would eliminate Social Security's actuarial deficit entirely through spending cuts — indeed, more [emphasis omitted] than entirely through spending cuts. Social Security taxes bring in about 13.2 percent of taxable payroll. Bringing the program into balance entirely through cuts would bring spending down to that level. Johnson would cut it another percentage point lower: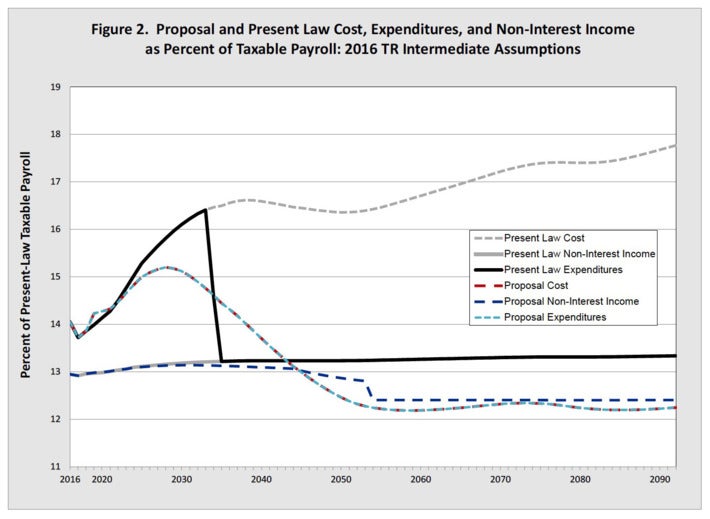 New York Magazine's Jonathan Chait continued, "It is really hard to overstate just what a political catastrophe it would be for Republicans to try to pass a plan like this […] Even Republicans most eager to cut Social Security have promised not to make any cuts for current retirees or anybody retiring within a decade. But Johnson's plan would beginning [sic] cutting as early as 2019."
Responses
Rep. Sam Johnson (R-Tex) termed his plan a "plan to permanently save Social Security."
In response to the bill, Rep. Richard Neal (D-Mass.) was quoted as saying, "America's seniors will be alarmed to hear that the top Republican on this important subcommittee quietly put forward a plan to drastically cut Social Security benefits for millions of seniors."
Democratic Minority Leader Nancy Pelosi's office issued a statement, stating in part: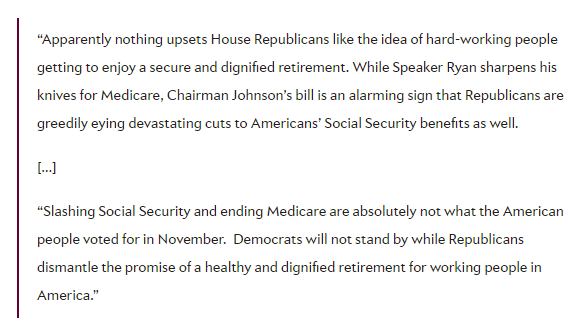 In order to hedge your bets, regardless of H.R. 6489's outcome, talk with your financial planner today. Invest in your financial future by investing in yourself and taking your retirement security into your own hands.
Image Credit: By This vector image includes elements that have been taken or adapted from this: US-SocialSecurityAdmin-Seal.svg. [Public domain], via Wikimedia Commons
View Comments and Join the Discussion!
Posted-In: Donald Trump Huffington Post Jonathan ChaitNews Politics Legal Personal Finance General Best of Benzinga