Coke CEO Steps Down, Here's What To Expect From The Stock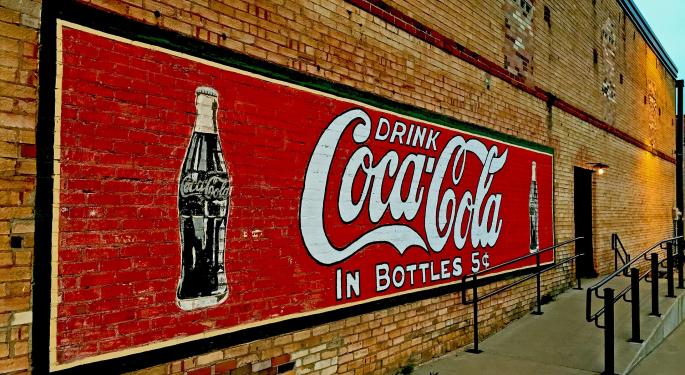 The Coca-Cola Co (NYSE: KO) made an announcement on Friday regarding the relinquishing of office by its CEO Ahmet Muhtar Kent, effective May 1.
The company also stated that chief operations officer James Quincey will take over the role of CEO in his place. Kent will continue to be the chairman of the board, the company added. The company also said its board intends to nominate Qunicey for the role of director at the 2017 annual shareholders' meeting.
Quincey had joined the company in 1996 and served it in various capacities.
Buffett Scion Steps Dow From Board
On Thursday, the company announced that Howard Buffett, the eldest son of Warren Buffett, has decided not to stand for re-election to the board at the April 2017 annual meeting of shareholders. The Buffett scion said his decision was driven by his quest to focus more on his role as chairman and CEO of the Howard Buffett Foundation.
Analysts see the development as clearing the decks for an eventual sell out to Anheuser Busch Inbev SA NV (ADR)(NYSE: BUD).
Investors React Positively
Investors have lapped up this announcement without any cribbing. Under Kent, the company's performance has been so-so. Revenue growth just wasn't there in recent years and share price has also underperformed peers.
Some Previous Transitions
Roberto Goizueta (August 1980–October 1997).
Douglas Ivester (October 1997–2000) (October 18, 1997)*.
Douglas Daft (2000–2004) (December 6, 1999)*.
Neville Isdell (2004–July 1, 2008) (May 5, 2004)*.
Kent (July 1 2008–) (December 6, 2007)*.
*The day when the announcement of appointment was made.
Reaction
Amid the announcement of Invester's appointment, the stock barely budged and was up a mere 0.5 percent but added about 2 percent in the next session. The stock gave back the gains and fell further over the next few sessions.
The announcement of Daft's appointment sent the stock tanking by 3.8 percent, although it staged a steady recovery thereafter.
When Isdell was announced as CEO, the stock did not react much and was largely on a flattish move.
Kent's appointment announced on December 6, 2007, also did not elicit much reaction.
Thus, these announcements, even if they trigger a move in either direction, could be fleeting and the stock returns to pre-announcement levels in the near term.
At time of writing, shares of Coca-Cola were rallying 2.34 percent to $41.94.
View Comments and Join the Discussion!
Posted-In: Ahmet Muhtar Kent Howard Buffett Howard Buffett FoundationNews Management Movers Media Trading Ideas Best of Benzinga