The Market In 5 Minutes: Lower Oil Prices, Higher Apple Watch Sales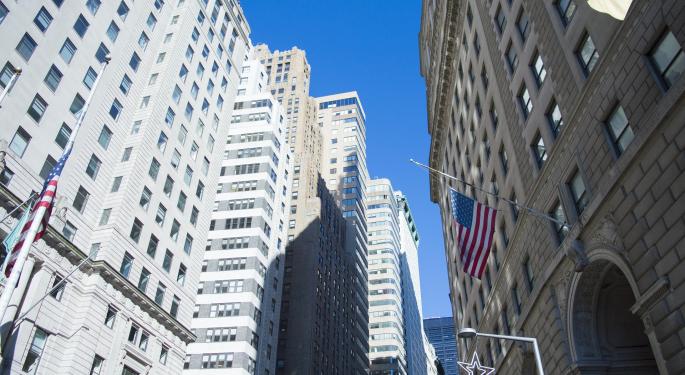 Macro Focus
Futures for the Dow Jones Industrial Average declined 3 points to 19,207.00, while the Standard & Poor's 500 index futures gained 0.50 points to 2,204.75. Futures for the Nasdaq 100 index surged 4.25 points to 4,784.25.
Oil prices traded lower as Brent crude futures dropped 0.96 percent to trade at $54.41 per barrel, while US WTI crude futures also fell 1.39 percent to trade at $51.07 a barrel.
US Oct Trade Deficit $42.60B; Consensus Deficit $42.1B, 3Q Non-Farm Productivity Revised +3.1%, Prelim +3.1%
US 2Q Unit Labor Costs Revised To +6.2%, US 3Q Unit Labor Costs Revised +0.7%, Prelim +0.3%
Data on factory orders for October will be released at 10:00 a.m. ET.
The Treasury is set to auction 4-and 52-week bills at 11:30 a.m. ET.
Bz News Desk Focus
Sell-Side Themes
Wells Fargo initiated coverage on Skechers (NYSE: SKX) with an Outperform rating and Steve Madden (NASDAQ: SHOO) with a Market Perform rating.
Sell-Side's Most Noteworthy Calls
Deal Talk
GoDaddy (NYSE: GDDY) announced it has entered into a definitive agreement to acquire Host Europe Group for €1.69 billion (US$1.79 billion), including €605 million paid to the selling shareholders and €1.08 billion in assumed net debt. The transaction is expected to close in the second quarter of 2017, subject to customary regulatory and other closing requirements.
Actelion (OTC: ALIOF) large shareholder would back a Johnson & Johnson (NYSE: JNJ) acquisition takeover for 246 SFR or higher, according to a Reuters report.
Bloomberg reporter Lucas Shaw Tweeted: "Itchy trigger finger: Viacom's CEO says the company is NOT interested in buying a piece of Vice, as was reported earlier this month."
In The News
Apple (NASDAQ: AAPL) CEO Tim Cook said "during the first week of holiday shopping, our sell-through of Apple Watch was greater than any week in the product's history."
While soliciting investors in 2014 and 2015, Theranos predicted revenue of nearly $2 billion and net income of about $505 million this year, according to investor materials from the blood-testing startup.
Joe Biden might be running for president in 2020: "I'm going to run in 2020. For president. So, uh, what the hell, man... I'm not committing not to run. I'm not committing to anything. I learned a long time ago, fate has a strange way of intervening."
Blogosphere
"Everyone who covers emerging markets has heard the mantra: Yes, there's a lot of debt but, unlike the late 1990s, sovereign balance sheets are fine. Corporations are the ones to worry about, and they are hardly ever sources of systemic risk," writes Gadfly's Chris Langner. "That may have been true five years ago. It isn't any longer, if the companies that specialize in assessing credit strength are to be believed."
Trending
DRYS AAPL DGAZ CMG UA TXMD P BAC OMER MS TOL NKE HDS PLAY UGAZ CONN BMO
This company's CEO said on Monday that he thinks they will have 10 million digital subscribers by 2020.
They've also added 200,000 net new subscriptions since October, helped by the election.
Sympathy plays include tronc, McClatchy and Lee Enterprises.

Posted-In: Market in 5 minutesNews Global Top Stories Markets Best of Benzinga
View Comments and Join the Discussion!