Chris Christie Calls Marijuana Revenue 'Blood Money'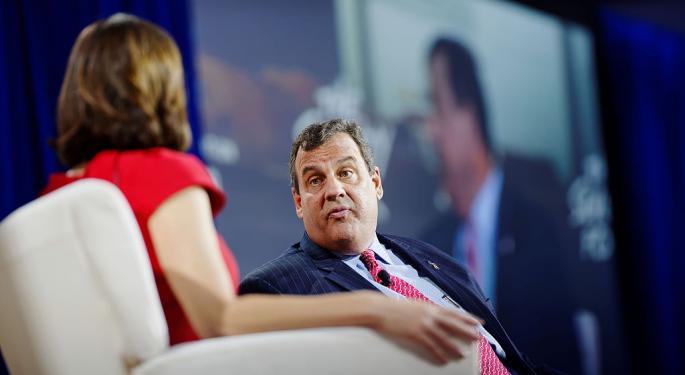 The marijuana legalization movement scored a big victory on Election Day when medical and/or recreational marijuana was legalized in eight of the nine states it was on the ballot. Now that the votes are counted, marijuana supporters and investors are shifting their focus to President-elect Donald Trump to determine what, if any, marijuana policies he will impose.
Comments From Christie
New Jersey governor and former head of Trump's transition team Chris Christie made some inflammatory statements about marijuana during a radio interview this week.
"Every study* shows that marijuana is a gateway drug," Christie said.
"There's nothing that we spend in government that's important enough to allow me to willfully poison our children for that money. That's blood money."
Trump has said he supports legal access to marijuana and is in favor of states setting their own laws on the matter.
However, marijuana investors were unsettled by the recent news that Trump appointed Sen. Jeff Sessions of Alabama as the new attorney general. Back in April, Sessions said that the government needs to foster "knowledge that this drug is dangerous, you cannot play with it, it is not funny, it's not something to laugh about [...] and to send that message with clarity that good people don't smoke marijuana."
420 Investor Alan Brochstein Responds
Alan Brochstein, founding partner at New Cannabis Ventures and founder of 420 Investor, told Benzinga that marijuana's momentum hit a wall with Sessions' appointment.
"Politicians like Sessions and NJ Gov. Chris Christie don't understand how legalizing and regulating cannabis is safer for children than the black market, which persists despite decades of failed efforts to curtail it," Brochstein explained.
Brochstein hopes that Trump's policies on marijuana will be consistent with his past statements on states' rights and economic growth.
"He is on the record as supporting medical cannabis, and continuing the current policies of non-enforcement of federal laws in states that regulate cannabis responsibly would seem consistent with his goals of improving economic growth," Brochstein told Benzinga.
Since Election Day, shares of large Canadian marijuana stocks AURORA CANNABIS IN COM NPV (OTC: ACBFF) and CANOPY GROWTH CORP COM NPV (OTC: TWMJF) have surged 18.1 percent and 15.1 percent, respectively. At the same time, medical marijuana biotech stock GW Pharmaceuticals PLC – ADR (NASDAQ: GWPH) is down 3.9 percent.
*Editor note: This claim has been highly debated for decades by reputable sources such as the Review Journal and the Rice University Baker Institute for Public Policy, the American Journal of Psychiatry, the Institute of Medicine of the National Academy of Sciences and the New York Academy of Medicine, among others.
Image Credit: By Michael Vadon - Own work, CC BY-SA 4.0, https://commons.wikimedia.org/w/index.php?curid=42569306
Posted-In: Cannabis News Politics Topics Legal Movers Interview General Best of Benzinga
View Comments and Join the Discussion!