Calexit: California Secession Movement Gains Traction, Could See Vote In 2018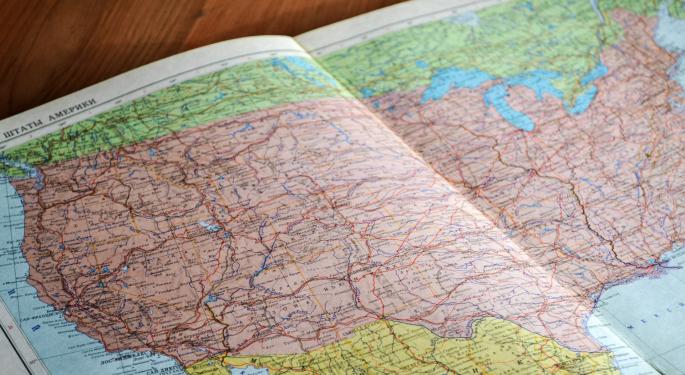 California's movement to secede from the nation, dubbed "Calexit," is beginning to gain traction as it appears likely it will garner the half a million votes it needs to hit the gubernatorial ballot in 2018.
Calexit
Yes California Independence Campaign, a fringe political group, is calling for the nation's largest state to become an independent nation after filing a proposed ballot measure with the attorney general on Monday.
The proposed measure would require a constitutional amendment and therefore require two-thirds majority in both houses or two-thirds of states ratifying. The measure started to gain traction after Donald Trump was announced president on November 9.
Oregon Gone?
Oregon has also filed the "Oregon Secession Act" in response to the latest presidential election. The state was one of the most outspoken following the election, with several protests and riots in Portland following Trump's victory.
Other Notable Secession Movements
Texas is no stranger to the secession talk throughout its history; after all, Texas was once its own republic before joining the Union. Since the 1990s, the Republic of Texas organization has claimed the United States' annexation of Texas was illegal, and Texas is an independent nation under occupation.
The Texas Nationalist Movement has distanced itself from the Republic of Texas movement, taking a more political approach, where it has county-level groups in most parts of the state. "The organization focuses on political support and advocacy, and education surrounding the issue of secession," according to the movement's website.
Hawaii has been an outspoken secession candidate ever since joining the states given its distance from the mainland, unique culture and the hostile way the United States annexed the island chain. The Nation of Hawaii has been fighting for Hawaiian sovereignty for years "asserting that the states treaty with the United States is illegitimate."
Vermont, too, has a history of being an independent nation years after George Washington became president. The Second Vermont Republic founded in 2003, aims to go back to its roots as an independent nation, calling for a "nonviolent citizens network and think tank opposed to the tyranny of Corporate America and the U.S. government." In 2010, Time magazine listed the Second Vermont Republic as one of the "Top 10 Aspiring Nations."
Editor Note: A previous version of this article stated that all 49 remaining states would have to agree to the state-in-question's appeal to withdraw from the union, citing Business Insider, which read, "Californians would need to pass an amendment to the US Constitution, which requires the blessings of the other 49 states." However, according to Article V, U.S. Constitution, a two-thirds majority (either of both houses or totaling 38 states through a Constitutional convention) is necessary.
Posted-In: Calexit California Donald TrumpNews Politics Topics Markets General Best of Benzinga
View Comments and Join the Discussion!