How Latin America Lived Election Day: Between Gossip And Outright Dislike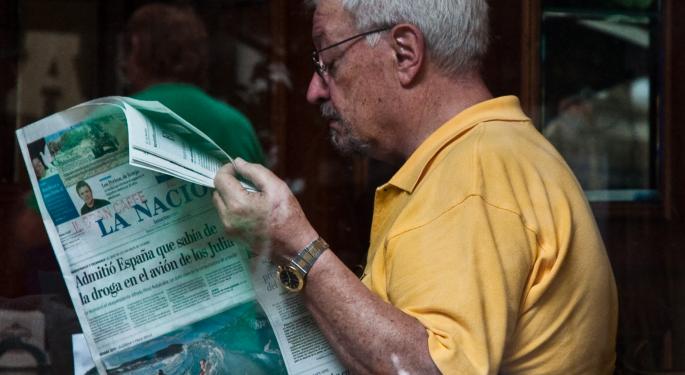 The U.S. presidential election has an impact that transcends the country and the continent. In uncountable occasions, it's been heard abroad that "the president of the United States is like the president of the world." Of course, this is an exaggeration, but the phrase speaks to what people around the world think of the U.S. president's importance and global reach.
So, let's take a look at what the main media outlets in Latin America are saying about Election Day.
Argentina: La Nacion And Clarin
La Nacion, one of Argentina's top newspapers led with the title: "Donald Trump voted in Manhattan: 'Everything seems fine, I do think a lot of the polls are purposely wrong.'" The second article by importance was one with the lead "Americans choose Barack Obama's successor."
The other big newspaper in Argentina, Clarin, also showed Trump and Hillary Clinton voting, mentioned Trump's criticism toward the media and polls, and Clinton's comments on "responsibility." In addition, the outlet pointed out that Clinton won in Guam, the first place to make results public, and a proxy for who would win the general election since 1984.
Venezuela: El Universal
Venezuela's El Universal did not give the election much importance, featuring a few analysis pieces (like "The big challenges that Barack Obama's successor will have to face") in the lower end of its main page. As did the other media outlets, El Universal also highlighted Trump's words after voting.
Colombia: El Tiempo, El Nacional
Colombia's El Tiempo dedicated its top news to the 2016 election. "Hillary Clinton and Donald Trump already voted in the U.S.A.," the main story read. The other featured story was that of astronauts voting in U.S. elections.
El Nacional, another big Venezuelan newspaper, did give the election more relevance, although the main article was titled: "Neither Trump nor Clinton: United States-Venezuela relation might not ameliorate."
Mexico: El Universal
Mexico's El Universal covered the gains of the Mexican peso versus the U.S. dollar and offered a guide for where to follow the elections on social media. It also featured an interactive section with voter and candidates' profiles, among other things.
Brazil: O Globo
Finally, Brazil's O Globo opened with "Long lines suggest high show up levels at ballots in the U.S.," and followed with "Hillary and Trump vote in an election that could be chaotic in the U.S."
Image Credit: By Phillip Capper from Wellington, New Zealand (Buenos Aires candid, 15th. Jan. 2011) [CC BY 2.0], via Wikimedia Commons
View Comments and Join the Discussion!
Posted-In: News Emerging Markets Politics Events Global Markets Media General Best of Benzinga