Brexit Derailed, British Pound Gains 1%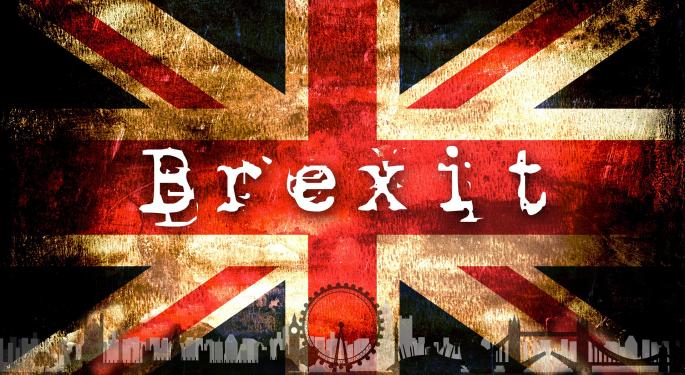 The British pound gained more than 1 percent in value against the U.S. dollar on Thursday after a ruling will force the U.K. parliament to hold a vote before the official process of Brexit can commence.
The outcome of the Brexit vote in late June was clear: The people voted to leave the European Union. The first step toward this officially occurring is the U.K. government triggering Article 50 of the Lisbon Treaty.
Theresa May, the country's prime minister said in early October that Article 50 will be triggered by the end of March 2017, and the U.K. will officially leave the EU by summer of 2019.
Not So Fast
According to a Bloomberg report, a panel of judges concluded that a parliamentary vote is required.
"If notice is given under Article 50, it will inevitably have the effect of changing domestic law," Bloomberg quoted Judge John Thomas as saying on Thursday.
The British pound is now trading at a three-week high against the dollar as investors are speculating that Brexit may not happen at all, or at the very least, the government will negotiate "soft" terms, which are viewed to be more economically favorable.
'The Government Will Implement What You Decide'
One of the bigger issues at hand is the principle of democracy. The people of Britain voted in a fair, open and honest election, and the outcome needs to be recognized.
The U.K. government's own website, gov.uk, clearly states, "This is your decision. The government will implement what you decide. If you're aged 18 or over by 23 June and are entitled to vote, this is your chance to decide."
The Guardian's Anne Perkins did note that the ruling "almost certainly" cannot stop Brexit from happening, but it does make the position confusing.
"It risks driving an even bigger wedge between the leavers and the remainers, particularly since the leavers are likely to interpret this as one more desperate attempt by the Metropolitan liberal elite to thwart the will of the people," she argued.
Posted-In: News Eurozone Legal Events Global Econ #s Markets Media Best of Benzinga
View Comments and Join the Discussion!