Hulk Hogan And 6 Huge Settlements Between Media And Celebs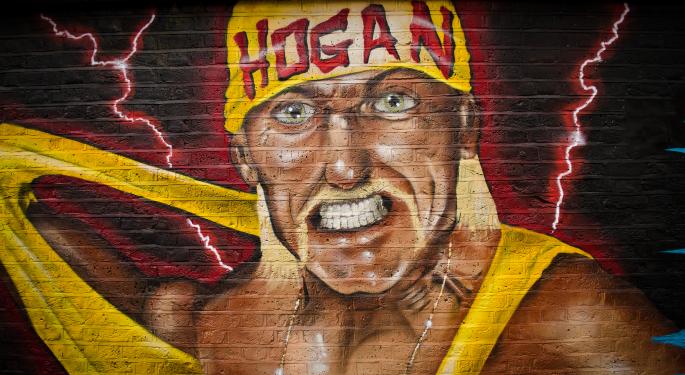 Gawker is settling its case with Hulk Hogan for $31 million in cash plus a percentage of some of the company's proceeds.
"After four years of litigation funded by a billionaire with a grudge going back even further, a settlement has been reached. The saga is over," founder Nick Dention wrote in a blog post, referencing Peter Thiel, Paypal co-founder and first outside investor at Facebook, who financed the litigation.
Thiel's grudge goes back to 2007, when Gawker outed him as a homosexual, causing him and his loves ones more trouble than one would expect.
In the wake of this scandal, Benzinga took a look at five other large settlements between media brands and celebrities.
Billy Bush - NBC
Just a few weeks ago, Comcast Corporation's (NASDAQ: CMCSA) NBC agreed to pay Billy Bush several million dollars ($10 million, according to the New York Post) to stop hosting "Today." Bush had been suspended after a tape where he had a lewd conversation with Donald Trump went public.
Miss Wyoming – Penthouse
More than a decade ago, Kim Pring sued Penthouse International (OTC: PHSL) following a publication where the outlet argued she had been discovered while engaging in oral sex. At first, a jury awarded Pring a $26.5 million settlement, although it was later reversed and dismissed on appeal.
Gretchen Carlson – Fox News
Earlier this year, Twenty-First Century Fox Inc (NASDAQ: FOXA) reached a settlement with Gretchen Carlson, an anchorwoman who sued Fox News former Chairman and CEO Roger Ailes, alleging harassment and retaliation. Carlson received $20 million and a public apology.
Several other women who were allegedly harassed by Ailes received smaller sums as part of the settlement.
David Beckham - In Touch Magazine
More than 10 years ago, former Manchester United (NYSE: MANU) soccer star David Beckham sued In Touch Magazine, after it published an article saying he had hired a "high-class call girl," Irma Nici. His lawyers asked for $25 million, but got nothing because they couldn't prove maliciousness in the magazine's actions.
Donald Trump – Univision
Last year, Donald Trump sued Univision for breach of contract and defamation. He demanded $500 million after the media company canceled a planned broadcast of the Miss USA pageant citing Trump's "insulting remarks about Mexican immigrants." Trump and Univision CEO Randy Falco settled the lawsuit outside the court. The figure was not disclosed.
Image: Garry Knight, Flickr
Posted-In: Billy Bush David Beckham Donald Trump Fox News GawkerNews Legal Media Best of Benzinga
View Comments and Join the Discussion!