MLB Playoffs: 2016 NLCS Tickets Are Twice As Expensive In Chicago Than LA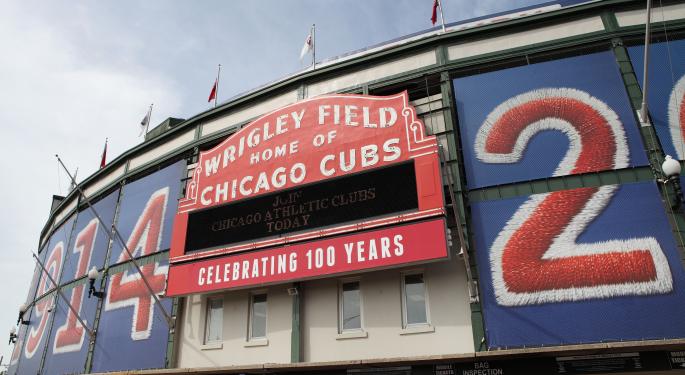 108 years is a long time.
In one of the most prolific games this postseason, Clayton Kershaw and the Los Angeles Dodgers fended off a late-game surge from the Washington Nationals to clinch a berth in the 2016 National League Championship Series. They'll now face the Chicago Cubs for rights to the World Series, and fans searching for NLCS tickets on the secondary market will be greeted with substantially different prices in Chicago and Los Angeles.
On TicketIQ, a leading online aggregator that tracks resale ticket data, the average price for Cubs vs. Dodgers NLCS tickets is $812.08 across all four potential games at Wrigley Field. That's more than double the average price between Games 3 and 5 at Dodger Stadium, which is now $344.23. It may be cheaper for Cubs fans to fly to LA to catch the action.
Credit the hype surrounding the World Series-favorite Cubs for the massive ticket demand entering the NLCS. With the team just four wins away from clinching their first World Series berth in 83 years, it's not surprising that such exorbitant prices exist. Since 2010, only last year's Cubs team posted a higher LCS ticket average at $1,051.70 across their two home games against the New York Mets.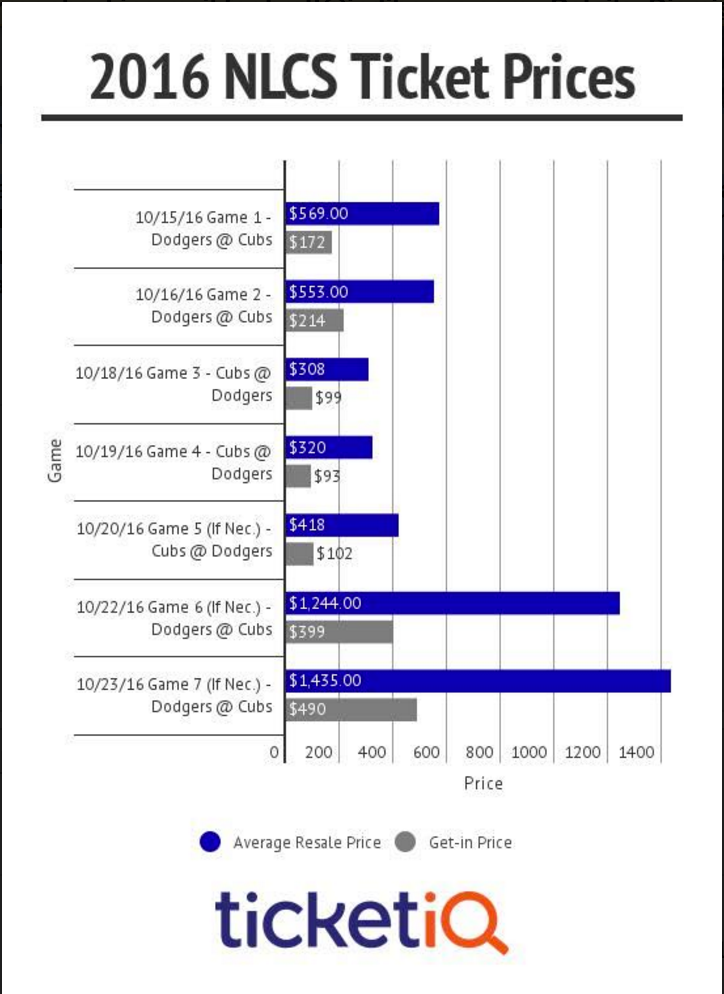 If you're planning to attend a game in Chicago, Game 1 will offer the cheapest ticket prices at Wrigley Field. Saturday's game now owns a minimum price of $172, which is significantly more expensive than any get-in price for Dodgers NLCS tickets at Dodger Stadium. Expect to pay much more if the Cubs return home for possible Games 6 and 7; the cheapest ticket for Game 6 is now $399 while Game 7 tickets start at just under $500.
In Los Angeles, both Games 3 and 4 are posting get-in prices under $100. The Dodgers own the cheapest LCS ticket prices this season, falling under the Toronto Blue Jays' average of $374.83 at home and the Cleveland Indians' $409.75 average at Progressive Field.
Price is clearly not an issue for Cubs fans that just want one thing -- break the curse that has plagued them for so long.
For more info check out Ticket IQ.
Image: Sam Howzit, Flickr
View Comments and Join the Discussion!
Posted-In: Chicago Cubs Los Angeles Dodgers MLBNews Sports Events General Best of Benzinga