Donald Trump Keeps Contradicting Himself, This Time On 'Sources'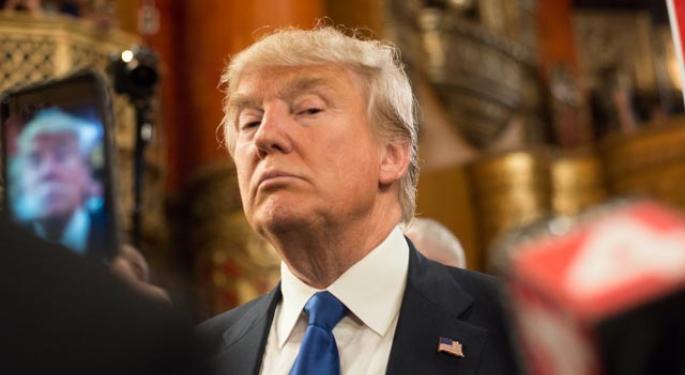 Donald Trump continued his attack on the media on Friday morning, posting the following tweet encouraging voters to ignore media reports citing unnamed sources.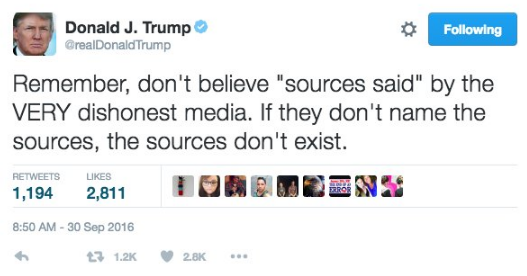 Of course, Trump himself frequently cites unnamed sources himself when making unverified claims. The tweet below from 2012 about President Obama's birth certificate being fraudulent is one example.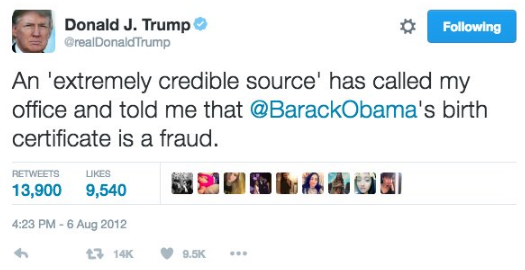 Business Insider editor Brett Logiurato posted the two Trump Tweets on Friday in defense of the media and to highlight Trump's inconsistency.
Trump has a long history of directly contradicting himself on Twitter. Back in July, Trump tweeted disparaging remarks about former New York mayor Michael Bloomberg after Bloomberg criticized Trump at the Democratic National Convention.
Of course, back in 2012, Trump was singing a different tune, tweeting that Bloomberg was doing a "great job" as mayor.
Related Link: How Political Ignorance Threatens Democracy
While Trump's Twitter contradictions make for an entertaining read, polls show that honesty and trustworthiness are real problems for both candidates. A recent Quinnipiac poll found that 57 percent of potential voters believe Trump is not honest. Clinton scored even worse in the poll, with 65 percent of voters indicating Clinton is not honest.
The same poll found that 68 percent of potential voters believe Clinton has the proper experience to be president, while 65 percent of voters believe Trump does not.
Posted-In: Donald TrumpNews Politics General Best of Benzinga
View Comments and Join the Discussion!