An Ominous Warning About Trains Showed Up On A Local New York News Station Last Night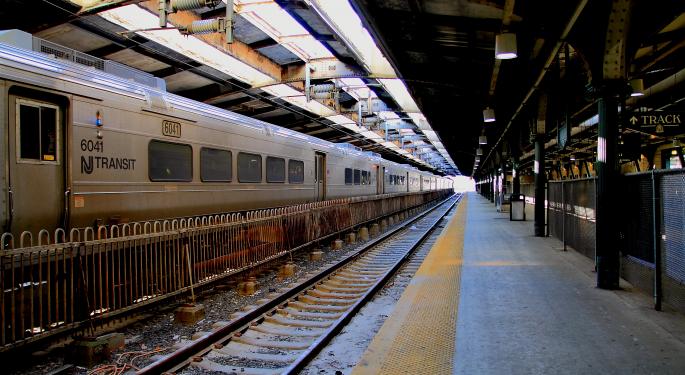 More than 100 people were injured Thursday morning, and at least one was killed, after a New Jersey Transit train from the Spring Valley line crashed into a station in Hoboken, "leaving twisted piles of metal and cables and causing part of the highly trafficked terminal to collapse."
Preliminary reports suggest the crash was either accidental or caused by operator error, law enforcement officials told NBC New York, although they stressed it was early in the investigation.
However, a video making the rounds online suggests something else.
Wednesday night, local news station WKTV News Channel 2 out of Utica, New York posted an erroneous emergency broadcast message. Utica is about three hours north of Spring Valley.
The message read, "Civil Authorities have issues a Hazardous Materials Warning for The United States. Effective until September 29, 02:16AM EDT. Would you. Could you. On a Train? Wait for further instructions."
Video of the message was captured by YouTube user Cindy McAllister and posted on Magafeed.
The station's official Facebook page last night posted, "If you were watching our newscast around 6:17 p.m. you may have seen a "Hazardous Materials Warning" crawl across your screen. There is NO such warning. The message was an automated test which was not intended for public display. Again, there is NO warning. Our apologies for the confusion this may have caused."
A few hours later, they posted another message which read, "Another warning message was sent out in error at 10:38 p.m. There is no emergency. This message originated from FEMA as a test and had the National Location Code in it. Tests should not have that code as it is automatically re-transmitted. We apologize for any inconvenience. We have contacted New York State Broadcasters Association who administers the Emergency Alert System in NY. We are working with FEMA to resolve this."
WKTV General Manager Steve McMurray said the message didn't originate from his station. He said the message made it to air via an encoder and that it was distributed via an emergency broadcast encoder that every station has.
"Apparently what happened yesterday was FEMA sent out one of these test codes, which they do on a regular basis, that aren't meant for broadcast. They aren't even meant to get to broadcast, but they're meant to get to the manufactures," he told Benzinga.
"So number one, the configurations shouldn't have been sent here. And then the message that came from FEMA was certainly not overt that it was a test. I don't know who typed that and where they are. Between the manufactuer and FEMA they're continuing to look into it."
Here's where it gets weirder.
According to McMurray, a message sneaking through erroneously like this never happens. However the same emergency message cycled through and made it to air again at 10:45 p.m. Wednesday, but was pulled down after only a few words. After that, the emergency broadcast box at the station was turned off. McMurray said that the same message was sent a third time at 1:30 a.m., but did not make it to air because the system was offline.
Considering the events in Hoboken Thursday morning, McMurray acknowledged the odd timing of the message. "There's no one that knows that more than me," he said.
This is obviously all very speculative at this point. Multiple calls have been placed to FEMA, and Benzinga will update this story as we know more.
Image credit: Patrick Marella, Flickr
Posted-In: Hoboken Hoboken Train CrashNews Events Exclusives Best of Benzinga
View Comments and Join the Discussion!