One Day And Counting Till Fed Says Yes Or No On Interest Rates
Investors looked again like they were treading cautiously into the markets today as the start of the Federal Reserve's two-day meetings launches in the U.S. and the Bank of Japan has its own central bank meetings there. Can you hear Tom Petty singing "waiting is the hardest part"?
In the early going, the Dow Jones Industrials (DJIA), the S&P 500 (SPX) and the Nasdaq Composite (COMP6) were higher in tight ranges as economists and analysts continued to opine on what direction the Fed will take when it makes an interest-rate decision at 2 p.m. ET tomorrow.
That sense of trader paralysis appeared to be strong Monday too, after a strong opening melted into a whole bunch of nothing when the three major benchmarks all fell dead flat at the close.
As noted yesterday, there's talk that the Bank of Japan might start pulling back on its easing program soon, buying shorter-duration bonds rather than the longer term in a move apparently aimed at helping Japanese banks, according to published reports. Also on the radar is a possibility that it could cut its rates further into negative territory, reports say.
Why might that matter? Because some analysts believe any BOJ move may make waves across central banks worldwide. "The outcome will not only tell us more about Japan's daunting challenges, but could also signal more clearly what lies ahead for other central banks that continue to operate within an unbalanced macro-economic policy mix," analyst Mohammed El-Erian wrote in his column for Bloomberg View. He's the chief economic adviser at Allianz SE and chair of the President's Global Development Council.
"The actions taken, or not taken, by the BOJ could have a smaller immediate market impact than those of the Fed; but they will contain more significant information for assessing the medium-term policy risks for other central banks and, consequently, for the global economy," he added.
Meanwhile, expectations about a step up in interest rates at this week's Fed Reserve meeting look to be back in a muted state with the CME Group's FedWatch Tool sitting at a mere 15% this morning, up slightly from 12% yesterday but still well below the 30% it touched a week ago. The CNBC September Fed Survey has only a 10% probability of a hike in September while it moves to a whopping 88% likelihood in December.
The sentiment on Wall Street late last week and yesterday appeared to focus on whether the market was adequately prepared for an interest-rate hike, no matter how small. Or would it melt down? While some analysts and economists, and even bank chief executives, continue to push for a 25-basis point increase, there are those who say the markets might tank. What Wall Street analysts say they will be listening for is a language change in the rhetoric surrounding the decision. Has the Fed ever made an outright declaration that a hike would be coming on a specific date?
Oil futures tumbled in the early going, erasing Monday's gains, amid Venezuela's assertion that global supplies were overstocked. West Texas Intermediate (CLV6) futures sank below $43 a barrel, off better than 1%.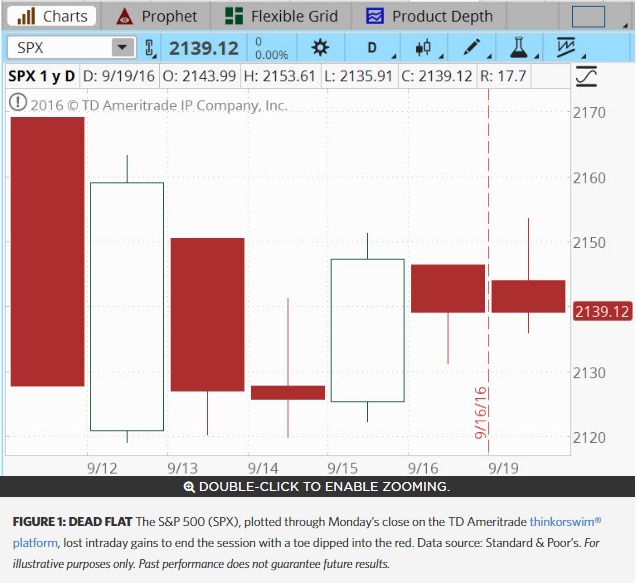 Look Ma, No Hands! It's official: The federal government has more faith in technology than people when it comes to safety on the nation's highways. On Monday, the Obama administration released long-awaited guidelines for automated cars. "We envision in the future, you can take your hands off the wheel, and your commute becomes restful or productive instead of frustrating and exhausting," said Jeffrey Zients, director of the National Economic Council, adding that highly automated vehicles "will save time, money and lives," according to the New York Times. A 15-point safety assessment covers a range of issues, including how driverless cars should react if their technology fails, what measures to put in place to preserve passenger privacy, and how occupants will be protected in crashes, NYT said.
If They Build New Homes, Homeowners Will Come. That's the comfort level homebuilders are experiencing this month, according to the National Association of Home Builders' housing-market index. The market for single-family homes surged six points to a seasonally adjusted 65 in September—its highest point in 11 years, according to NAHB. (Fifty is the difference between positive and negative sentiment.) That appears to be welcome news for homebuilders who have seen that gauge linger in a narrow range between 58 and 62 for much of the last year amid tight single-family housing supplies.
Might this spark a spate of new-home construction? "With the inventory of new and existing homes remaining tight, builders are confident that if they can build more homes they can sell them," Robert Dietz, NAHB's chief economist, said in a press release.
Pantheon Macroeconomics' Chief Economist Ian Sheperdson warned, however, not to jump the concrete mixer just yet: "The survey is not a consistently reliable leading indicator of market activity and construction, but it is another piece of evidence pointing to a firming housing market," he said in a research note to clients.
About that Market Rally in July. Total long-term capital inflows, referred to as Treasury International Capital (TIC) data, surged in July amid a flurry of private investments by foreign buyers, according to the U.S. Department of Treasury.
Total net foreign acquisitions of long-term securities, short-term U.S. securities, and banking flows came in at $140.6 billion—the largest one-month jump since October 2014, notes Wells Fargo. Of this, net foreign private inflows were $162.7 billion while net foreign official outflows were $22.1 billion.
Foreign residents substantially upped their holdings of long-term U.S. securities in July; net purchases were $72.6 billion. That broke down to net purchases by private foreign investors of $90.5 billion, while net sales by foreign official institutions were $17.9 billion.
Meanwhile, U.S. residents sold off some of their holdings of long-term foreign securities, with net sales of $31.3 billion.
TD Ameritrade and all third parties mentioned are separate and unaffiliated companies, and are not responsible for each other's policies or services.
Inclusion of specific security names in this commentary does not constitute a recommendation from TD Ameritrade to buy, sell, or hold.
Market volatility, volume, and system availability may delay account access and trade executions.
Past performance of a security or strategy does not guarantee future results or success.
Options are not suitable for all investors as the special risks inherent to options trading may expose investors to potentially rapid and substantial losses. Options trading subject to TD Ameritrade review and approval. Please read Characteristics and Risks of Standardized Options before investing in options.
Supporting documentation for any claims, comparisons, statistics, or other technical data will be supplied upon request.
The information is not intended to be investment advice or construed as a recommendation or endorsement of any particular investment or investment strategy, and is for illustrative purposes only. Be sure to understand all risks involved with each strategy, including commission costs, before attempting to place any trade. Clients must consider all relevant risk factors, including their own personal financial situations, before trading.
TD Ameritrade, Inc., member FINRA/SIPC. TD Ameritrade is a trademark jointly owned by TD Ameritrade IP Company, Inc. and The Toronto-Dominion Bank. © 2016 TD Ameritrade IP Company, Inc. All rights reserved. Used with permission.
Posted-In: News Events Global Econ #s Economics Federal Reserve Markets General
View Comments and Join the Discussion!