Stock Market's Streak of Monthly Gains Comes to a Close with Jobs Data Ahead
It was nice while it lasted, but the stock market's string of six-straight positive months ended Wednesday as August went out with a whimper ahead of Friday's jobs data.
The S&P 500 Index (SPX) had climbed every month from February through July, but August broke the streak, with the index falling less than three points during the month. That's hardly a rout, and in fact there wasn't a single day in August when the index rose or fell as much as 1%. Also, although the market fell a touch for the month, the SPX set an all-time record high of 2193.81 on Aug. 15 and remains only about 1% below that mark even with Wednesday's light losses factored in.
With jobs data due first thing Friday and a long weekend after that with the market closed Monday for Labor Day, today could be another light trading day. Traders have a bit of a conundrum as the long weekend approaches. Volume has been low all week in pre-holiday trade, and typically people don't want to have big positions headed into a long weekend. On the other hand, many could want to trade the employment number. It could be interesting to track volume Friday after the report to see if traders stuck around to trade the data.
A host of data could give investors something to chew on Thursday, with August auto and truck sales scheduled and potentially providing a bit more insight into how much consumers were dipping into their wallets for big purchases last month. As apparent from other recent data, the consumer hasn't been the problem for this market, as consumers appear to be out there spending.
A survey of analysts by Bloomberg predicts auto sales to come in at an annual rate of 17.2 million, according to a Bloomberg survey, down from 17.9 million in July. Recall that in July, vehicle sales growth slowed, with both Ford Motor Company (NYSE: F) and General Motors Company (NYSE: GM) experiencing drops from the same month a year earlier. Other data Thursday includes weekly unemployment claims, ISM Manufacturing Index, natural gas inventories and monthly construction spending. Weekly jobless claims totaled 263,000, compared with analysts' consensus estimate of 265,000.
There was also some bullish data from overseas Thursday, as China's purchasing managers index rose to 50.4, slightly above analysts' expectations. That was good to see, and perhaps a sign that China's economy could be in better shape.
Friday's jobs report looms large, as the monthly jobs report always does, but this month, it arguably carries more weight than usual with the Fed meeting ahead later in September and a number of Fed officials hinting that a rate hike might be necessary in the nearer term, especially if the jobs and wages numbers appear to be strong. A resilient jobs number might be interpreted by investors as signaling a possible rise in rates later in the month, but a disappointment on the jobs front might evoke memories of early June, when a weak May jobs number pretty much scotched chances of a June rate hike that had been widely expected.
The jobs number could also have implications for the U.S. dollar and gold. The dollar reached a one-month high vs. the yen on Wednesday and the dollar index hit a three-week high as talk of a possible rate hike continued, while gold fell to a two-month low. The strong dollar tends to put pressure on oil, perhaps contributing to crude's poor showing so far this week.
Oil was lower again early Thursday, with U.S. crude falling below $44.60 after a big weekly rise in inventories reported Wednesday.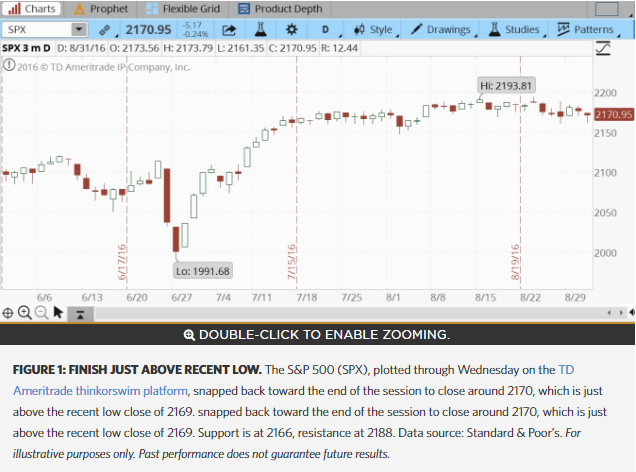 Countdown Keeps Creeping Up: A month ago it was 12%. Then it climbed to 18%. By last week it was 24%, and by early Thursday, it reached 30%. Those numbers show the probability of a September rate hike, as tracked by the futures market. The prospects for a December rate hike, meanwhile, are above 50%, according to Chicago Mercantile Exchange (CME) futures. Though the futures market probability keeps rising, remember that September chances are still relatively low at just 30%, and a more solid case could probably be made for December.
Boston Fed President Eric Rosengren, who spoke Wednesday, was the latest Fed official to have his language interpreted as showing more openness toward near-term rate hikes, though he didn't directly discuss timing in his remarks, media reported. What Rosengren did say is that the Fed is close to achieving its dual mandate of full employment and 2% inflation, meaning the Fed must monitor closely to make sure neither of those metrics diverges too much from ideal levels. One way to prevent divergence might be to hike rates, something Rosengren referred to obliquely as "A somewhat faster move to rate normalization." Friday's jobs report could play into the Fed's decision, and the Fed typically keeps a close eye on wage growth, so remember to watch that component of the jobs report.
Strong Jobs: How Likely? It's been a bit of a challenge lately predicting how various government data points might turn out, and the monthly jobs report is no exception. The May jobs report likely came as a shock to most investors, with a jobs growth number dramatically below expectations. Then the June report was dramatically above expectations, followed by a July report that was more in what could be called the "Goldilocks" zone, not too high or too low. On Wednesday, ADP, the payroll-processing group, said 177,000 positions were added to payrolls last month, close to the 175,000 economists had targeted. For Friday's August jobs report, the Briefing.com consensus of analysts estimate is at 180,000, though Briefing.com itself is more optimistic with its own estimate, predicting 200,000. That would still be down from 255,000 in July. The consensus is for a 0.2% rise in hourly earnings, down from 0.3% the previous month but still relatively strong.
As always, keep an eye on where the new jobs are being created. A lot of recent growth has been in business-to-business services and health care, but it could be a good sign for the economy if Friday's report shows more growth in construction and manufacturing jobs. Perhaps the July consumer spending report released earlier this week by the government offers some clues into Friday's jobs report, as it showed consumer spending up 0.3%, highlighted by more purchases of big-ticket items like automobiles. Does this suggest that people are celebrating their new jobs by heading to the auto showroom? Watch August auto and truck sales today for further insight.
Is Volatility's Summer Break Almost Over? September is often a more vigorous month for trading volume than August, history shows, but perhaps not until after the Labor Day holiday this coming Monday. Meanwhile, the SPX has now gone nearly two months without a day in which it moved up or down one percent, a historically long stretch. Before Wednesday's light losses, the market had been in a pattern of grinding slowly higher amid low volatility, and the general psychology looks relatively complacent even with the U.S. election coming up in just over two months. Wall Street hasn't really started to take the elections too seriously yet, but with everyone coming back from summer vacations and Congress getting back into session, perhaps that could lead to a return of volatility. As of early Thursday, the VIX index, which serves as the traditional indicator of market fear, was up slightly at 13.08, still rather low but up from recent readings below 12.
Inclusion of specific security names in this commentary does not constitute a recommendation from TD Ameritrade to buy, sell, or hold.
Market volatility, volume, and system availability may delay account access and trade executions.
Past performance of a security or strategy does not guarantee future results or success.
Options are not suitable for all investors as the special risks inherent to options trading may expose investors to potentially rapid and substantial losses. Options trading subject to TD Ameritrade review and approval. Please read Characteristics and Risks of Standardized Options before investing in options.
Supporting documentation for any claims, comparisons, statistics, or other technical data will be supplied upon request.
The information is not intended to be investment advice or construed as a recommendation or endorsement of any particular investment or investment strategy, and is for illustrative purposes only. Be sure to understand all risks involved with each strategy, including commission costs, before attempting to place any trade. Clients must consider all relevant risk factors, including their own personal financial situations, before trading.
TD Ameritrade, Inc., member FINRA/SIPC. TD Ameritrade is a trademark jointly owned by TD Ameritrade IP Company, Inc. and The Toronto-Dominion Bank. © 2016 TD Ameritrade IP Company, Inc. All rights reserved. Used with permission.
Posted-In: News Events Global Econ #s Economics Markets General
View Comments and Join the Discussion!