How Tesla's Stock Reacts To Big Product Announcements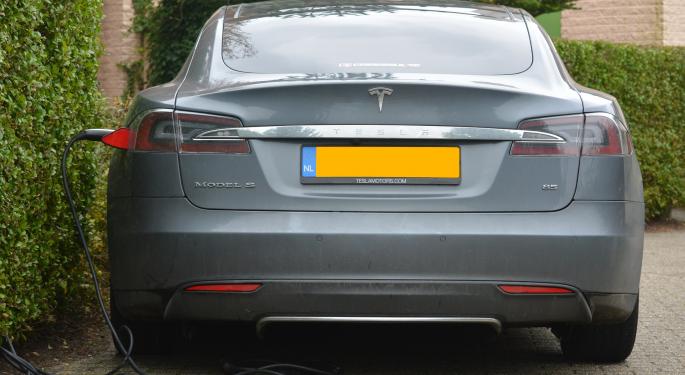 The market wasn't particularly impressed by Tuesday's Tesla Motors Inc (NASDAQ: TSLA) product announcement. The company unveiled a new P100D battery pack that it claims will make its Model S the fastest production car in the world.
After the announcement, Tesla shares gave up most of their gains on the day, and shares were down 1 percent in Wednesday trading.
Related Link: Tesla Traders Sell The News Of Model S, Model X Updates
In the years since Tesla's IPO, the company has a history of market-moving product launches. Here's a look back at four of Tesla's biggest unveilings.
Model X SUV- Feb 9, 2012: Tesla's Model X SUV unveiling sent shares up 4.9 percent in the week that followed and 6.6 percent in the next month.
Powerwall Battery – April 30, 2015: The unveiling of the new home battery pack sent shares up 4.7 percent in the first week following the announcement and 10.9 percent in the month that followed.
Autopilot- October 14, 2015: Tesla announced limited self-driving capabilities for the first time. After the announcement, Tesla shares fell 3.1 percent in the following week and 4.4 percent in the following month.
Model 3-March 31, 2016: The biggest Tesla unveiling in history happened earlier this year when the company revealed the Model 3. Tesla shares jumped 11.9 percent in the first week following the unveiling but held onto only 4.7 percent gains after a month.
Posted-In: News Events Trading Ideas Best of Benzinga
View Comments and Join the Discussion!