Michael Phelps Vs. Usain Bolt: Who Is The Greatest Olympian Of All Time?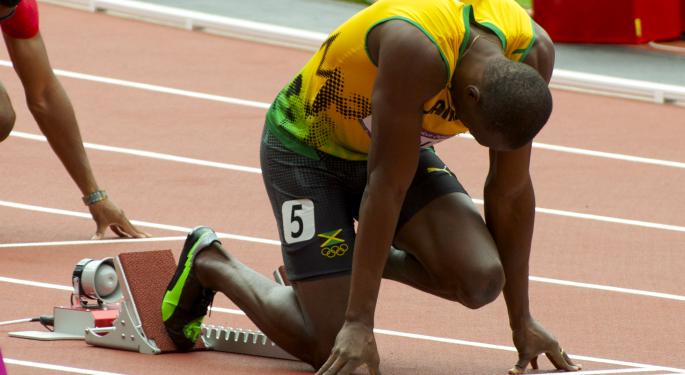 Michael Phelps is the most decorated athlete in Olympic history with 28 Olympic medals, 23 of which are gold. But is he the best Olympic athlete ever? This will be a debate held by friends and family for decades to come.
The Case For Phelps
In addition to holding the title as being the most decorated Olympian with his 28 medals, Phelps also holds the all-time record for Olympic gold medals (23), gold medals in individual events (13) and Olympic medals in individual events (16).
Phelps' won eight gold medals during the 2008 Beijing Games, which earned him the right to say no one else has ever won more first-place finishes at any Olympic Games in history.
Related Link: Are The Olympics Profitable?
The Case For Bolt
Usain Bolt proudly proclaimed he is "the greatest" after edging out Canadian Andre De Grasse in the 200 meter race to add another Olympic title to his already impressive trophy case.
Bolt finished the 4x100 relay final on Friday in grand fashion, an emotional race as he already announced his retirement for next year.
The Jamaican sprinter holds nine separate gold medals and the title to being the world's fastest man - at least in the 100 meters and 200 meters category.
Bolt is also the first man to win nine gold medals for sprinting and the first ever to win consecutive 100 meter and 200 meter titles, which was done in the 2008, 2012 and now 2016 Olympic Games.
Vote
If the results of our Twitter poll are any indication, Phelps is the clear winner. When asked who the greatest Olympian of all time is, 63 percent said Phelps, with Bolt receiving just 25 percent. "Other" got 12 percent.
The greatest Olympian of all time is... #Rio2016

— Benzinga.com (@Benzinga) August 19, 2016
Honorable Mentions
James "Jesse" Owens was the four-time Olympic gold medalist at the 1936 Olympic Games who has been credited with "single-handedly crushing Hitler's myth of Aryan supremacy."
"Do you believe in miracles?" Although not an individual athlete, the 1980 U.S. hockey team defeated the mighty Soviet Union on home ice to eventually take home the gold medal.
Image: Nick Webb, Flickr
Posted-In: Jesse Owens Michael Phelps Olympic AthletesNews Crowdsourcing Sports Events General Best of Benzinga
View Comments and Join the Discussion!